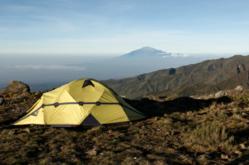 (PRWEB UK) 26 June 2013
African travel specialists – Freedom Africa have complemented their invigorating 2013 catalogue by launching their exclusive Kilimanjaro Climb – an unrivalled seven-day adventure tour of the highest mountain on the African continent – Mount Kilimanjaro.
The gargantuan peak that stands at a staggering height of 5,895 m not only resides as a national symbol of Kenya but it is revered worldwide as one of the most challenging summits for adventurers to scale, but thankfully enough for travellers, this comfortable adaptation follows the straightforward Marangu Route and is available at £1079 per person – excellent value considering the untouchable status Kiliminjaro negotiates.
The dormant volcanic peak is located in the Kilimanjaro National Park in northern Kenya and the peak is handily served by her own international airport, whereby those taking part in the Kilimanjaro Climb tour on their holidays to Kenya will be met upon their arrival to ease a mixture of nerves, anticipation but ultimately excitement.
Before travellers embark on their Kilimanjaro Climb, individuals are advised to consult medical advice and should possess sufficient levels of fitness ahead of their Kenya holidays but the nature of the routes Freedom Africa have carefully selected on this unforgettable tour mean that the majority of abilities are catered for, with day four's mildly strenuous climb proving the biggest challenge.
Freedom Africa recognise that adventure travel holidays are proving increasingly popular in the contemporary marketplace what with the themes of achievement and scenic sightseeing converging to produce ultimate fulfilment and day two is where the tour comes to life.
The lower reaches of the peak are significantly vegetated by rainforest and before day two commences, travellers would have already trekked an impressive 2700m above sea level. The climb will become increasingly challenging with days three and four comprising four to six hour negotiations of areas known as Horombo hut and The Saddle each.
Friendly and helpful Freedom Africa tour guides will be hoping travellers have proved lucky enough in selecting a clear day for their tour as the views of the twin peaks Mawenzi and Kibo from this point are truly out of this world.
Day five begins with travellers having already amounted a remarkable 4700m in the height stakes with renewed energy and drive born out of the fact that by the end of the day, travellers would have reached Gilman's Point – popularly regarded as the craters rim.
For those still feeling pumped, a wondrous two hour encirclement of Uhru Peak – the highest point in all of Africa – rounds off the climb before descent, and of course that well deserved meal before onward travel. Visit http://www.freedomafrica.co.uk/ for more tours in Africa.