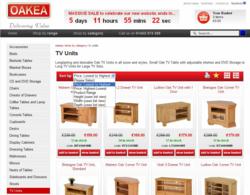 Hereford, Herefordshire (PRWEB UK) 27 June 2013
Oak furniture retailer OAKEA today announced the launch of a new user friendly website. The Hereford based company designs and imports oak and pine furniture, to sell both online and via a retail showroom. OAKEA's new website will replace the current e-commerce site and boasts many new features including detailed searching, easier navigation and sorting, interactive reviews, larger images, and a printable price list.
OAKEA revamped its existing website in early 2013, adding new features such as enhanced images, comprehensive product descriptions, and easier navigation through product categories. "Adding extra features to the website could only take us so far, it soon became apparent that to give our customers the best online shopping experience we needed to start from scratch with a brand new website," commented OAKEA's Henrik Pontoppidan. The new website began to take shape in early 2013, finally going live in mid-June.
The new website has been designed with the end user in mind, and is set up to make shopping for oak furniture online as easy as possible. A new search bar allows the customer to enter search terms, or to find items by category or range; each page of results can be organised by price and dimension. The images for each item are now larger and more detailed, allowing for up close shots of the insides of the oak sideboards and cupboards, as well as picking up on specific features - such as dovetail joints on the oak chests of drawers and rounded corners on the tops of many oak units.
The new website also offers many new interactive features. Customers can leave product reviews on individual items, giving a personal insight into the product and buying experience. Orders processed online will automatically receive a link to leave feedback on the independent review website Trustpilot; customers can rate the company and leave a comment. Future customers can click onto the Trustpilot link and read independent reviews. The company history and other information are now easier to find for customer peace of mind."As for our plans for the future," adds Henrik, "we're working on getting video uploaded, with full product presentations for each item online."
Oak furniture retailer OAKEA imports oak and pine furniture for retail sale online and via a showroom in Hereford. The company was started in 2004 by Henrik Pontoppidan with the aim of giving customers the opportunity to buy good quality furniture without long lead times, large deposits and months of waiting. The company holds stock in its warehouse, and undertakes its own deliveries for a fast turnaround from ordering to delivery. OAKEA's flagship range is the Utah Oak Furniture Collection, a range of multi-functional oak bedroom, dining and lounge furniture with practical added features such as flexible oak wardrobes, extra deep bookcases and an oak cupboard that transforms into a laptop desk.