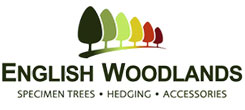 (PRWEB UK) 27 June 2013
Maintaining and caring for an organised garden is a year round occupation. Upkeep for structure and design will always present new and interesting tasks, from planting and protecting flora to pruning and harvesting. However, the month of June presents a perfect opportunity for gardening work, possibly an annual highlight, with herbaceous plants beginning to prosper and vegetable gardens starting to show a significant return.
Winter planted structural elements, such as evergreen hedging and topiary, will just be beginning to come into their own. It's with this in mind that East-Sussex based tree supplier, English Woodlands, are promoting and informing customers about their current ranges of topiary and hedging for summer gardens.
At the heart of their current collection is Buxus sempervirens, a classic item of evergreen hedging well-suited for architectural use as topiary, often shaped into cones, cubes and spheres, and slow-growing enough to retain any chosen design throughout the year. It's available now in boxed form on the English Woodlands site, from anywhere between £3.00-£110.00, ready for a June prune to prepare it for the year ahead.
For heightened borders and ornamental interest aside paths and doorways, the company are promoting Laurus nobilis, or the Bay Laurel. A half-standard, or lollipop-shaped tree, is able to create significant interest structurally as a vertical form. Closely trimmed during June into a neat ball on a stem, Laurus nobilis creates a smart feel for borders and entrances without obscuring the ground, perfect alongside lower vegetable and herb gardens, particularly with the Bay Laurel's edible dried leaves for use in pasta dishes.
Visit http://www.ewburrownursery.co.uk for an even wider range of topiary, from green and variegated half standard Hollies, to more Mediterranean species such as the Portuguese laurel. Particularly unique species include Photinia 'Red Robin', a versatile plant with bright red new growth eventually maturing to green.
Topiary can be kept formal, smart and stylish through careful summer trimming, with June and July marking the best period for upkeep and maintenance. Any interested parties are welcome to contact English Woodlands by phone on 01435 862 992, or send an e-mail to info(at)ewburrownursery(dot)co(dot)uk. A member of staff is always on hand to handle any questions and queries, and happy to help set up a trade order or share information and advice.