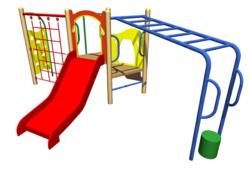 As budgets have been cut schools are finding it harder too balance the books and so instead of investing in brand new playgrounds they often ask us to check their existing installations to see if it is safe or needs repairing.
Bolton, Lancashire (PRWEB) June 25, 2013
The Bolton based, playground equipment suppliers are expanding their innovative business with a number of initiatives one of these includes relocating.
Previously the playground equipment suppliers were located on the top of floor of the Enterprise Centre at Washington Street in Bolton, Lancashire.
The Bolton business centre has four floors; the top three are largely made up of offices with industrial units located on the ground floor.
Playground's new office is on the first floor and four times the size of their previous one.
"The new office is much better as we have lots more room; now that we have added to the team we need the extra space. The larger office makes working on playground designs much easier" said John Hughes of the Bolton based suppliers of playground equipment.
The playground equipment installers also have units on the ground floor where many examples of their unique school playground equipment are stored before being installed in schools or garden centres.
Another part of Imagineering's expansion programme involves the launch of a new service which is the maintenance and inspection of school playground equipment.
Launched earlier this year the new service has already become very popular.
"As budgets have been cut schools are finding it harder too balance the books and so instead of investing in brand new playgrounds they often ask us to check their existing installations to see if it is safe or needs repairing" said Mr Hughes.
"Because of the quality of the materials that we use we generally find that our own installations don't require that much work. That's not always the case with all the installations we inspect and the age of the installation is obviously a contributing factor" John added.
The inspections involve both a visual and a 'push and pull' approach.
Playground Imagineering check that the installation meets the required safety standards for playground equipment.
The inspection is then followed up by a report including photographs which illustrate any issues discovered.
Playground can also provide a quotation (if required) for items of equipment that may compliment or fill a gap in the current provision.
Inspections vary in price (dependent on the amount of equipment being inspected), they can cost up to £175.00 plus Vat.
"When budgets are tight this approach is a great way of 'sprucing-up' the existing playground and most importantly, helping to ensure it's safe for children to use" said John.
Imagineering have a wide range of different designs available including simple wooden mushroom seats right through to adventure trails which incorporate many different pieces.
Additions to their product range include the Hilltop Tower and Action Zone.
The Hilltop Tower was designed for areas which don't have much room.
The Action Zone Play Frame is ideal for developing strength, balance and co-ordination.
Features include:
Rubber step post start/finish point
Hand over hand ladder
Horizontal step bar
Decks at 600mm and 900mm
Rock ramp with crawl through panel to 600mm deck
One piece HDPE slide from 900mm deck
Lily pad climb to 900mm deck
Vertical rope net climb
Sail shaped climbing wall
Playground Imagineering's new employee, designer Matthew Richardson was heavily involved in the development of the new products.
Matthew helped with the design of the structure and also the aesthetics.
He previously worked at Ferco Seating Systems where he was responsible for layout drawings, seat design and project management.
Matt's responsibilities now include continuing with Imagineering's dynamic product development programme as well as ensuring the prompt delivery and installation of new orders.
Established back in 2008 by Robin Harwood, Playground Imagineering now employs a team of four (on a full time basis). They call on specialist sub-contractors when projects require.
Based at their office (and units) at Bolton Enterprise Centre, Bolton in Lancashire, Playground design and manufacture various types of play equipment including school benches, playground markings and wooden climbing structures.
Playground Imagineering offer a complete service including site inspection, design, planning, installation, maintenance and repairs.
They operate mainly on a national basis supplying nursery and primary schools with the occasional order from abroad contributing to their turnover.