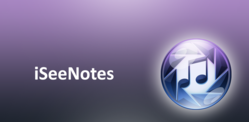 "The goal has been to create a useful tool for musicians, students and everyone who sings. The mobile platform is ideal to get the technology available where it is really needed: in front of the printed page", says Viktor Linder
Stockholm, Sweden (PRWEB) June 26, 2013
Gear Up AB announces iSeeNotes, an app for Android™* that can interpret musical notes from a photo and play the music back. The user snaps a photo of a page of printed music using iSeeNotes, and the app processes the photo using optical music recognition to interpret the notes in the image and play them back.
Viktor Linder, the creator of iSeeNotes, was originally inspired to create the app by his three-year-old daughter who wanted to hear songs that he didn't know from her song book.
"I am happy to contribute to enabling more people to read musical notes, perhaps the most global language in existence. I am sure there are many parents who, like me, have searched for a melody when they want to sing to their children, or musicians who prefer to play by ear," says Viktor Linder.
The app reads a large part of modern Western musical notation and is able to interpret photos of sheet music taken in indoor lighting conditions. iSeeNotes reads pages of song books as well as sheet music for multiple voices, for example sheet music arranged for two hands and the piano. When encountering scores with multiple voices, the app will play the voices simultaneously. The music is played back with a realistic piano sound.
The app is available for most Android™ phones and tablets that have a back facing camera, and the use of robust optical music recognition algorithms allows the app to function with cameras that provide relatively low resolution photos.
"The goal has been to create a useful tool for musicians, students and everyone who sings. The mobile platform is ideal to get the technology available where it is really needed: in front of the printed page," says Viktor Linder.
iSeeNotes is available on Google Play™*.
Read more:
http://www.iseenotes.com
Video:
http://www.youtube.com/watch?v=EQBrC_bUxhc
Google Play™:
https://play.google.com/store/apps/details?id=com.gearup.iseenotes
About Gear Up AB: Started at the end of 2010, Gear Up AB performs consultancy services in software development and develops apps for mobile platforms.

Android and Google Play are trademarks of Google Inc.