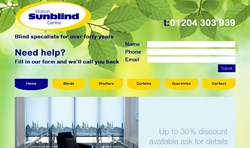 The range by Ashley Wilde is very popular and includes five different styles and many different colours to choose from.
Bolton, Lancashire (PRWEB) June 25, 2013
Bolton Sunblind Centre the Bolton blinds specialists was formed in 1968 by Jack Carroll.
In 2003 Simon Inns (an employee) bought the Bolton blinds company as Jack was due to retire that year.
Simon made many changes to the business and as well as specializing in selling blinds in Bolton he began to focus on commercial customers too.
He approached companies with large office buildings and local government departments offering his services.
"I used to drive around Bolton looking at large office buildings with lots of windows. I then called in with my samples and after a few visits I managed to pick up some new business," recalled Simon of the Bolton blinds firm.
Bolton Sunblind Centre supply 'off-the-shelf' and bespoke blinds and shutters to the general public and businesses throughout the North West.
The business is still family owned and run by Simon and his wife.
As well as providing blinds and shutters to domestic customers the Bolton blinds company have also fitted blinds and shutters for the Coop, NHS and Manchester Airport.
The Bolton blind company has grown steadily and now invested in a brand new website featuring all there services and product ranges.
"We have been meaning to update our site for some time now as it was beginning to look a little dated and we didn't feel that it was working well enough for us," said Bolton blinds specialist, Simon.
The Manchester blinds specialists approached Vizcom Design to build their new site as they were particularly interested in making sure it generated more enquiries than their previous one.
"We spent a long time trying to source a suitable web designer. We wanted somebody who was local, approachable and could make sure we appeared on the first page of Google," said Mr. Inns who specializes in Perfect Fit Blinds.
Vizcom are based in Bolton and have been trading since 1996.
Originally a design and print company they are now one of the leading web and SEO (search engine optimization) agencies in Bolton.
Headed by Dan Robinson they have been producing websites which in their words are designed to 'bring more business'.
"We love working with local businesses as we get to meet the clients face-to-face and demonstrate our knowledge and skills. We like to think our sites are different because not only do they look good but they also work for the client," said Dan.
"Unlike a lot of web design firms we focus on keyword research and meta data before we even start the design. This means that your website is likely to generate enquiries almost straight away," he added.
The new site is built on a Wordpress platform.
Wordpress is a CMS (Content Management System) which allows the owner to add new pages, images and text.
"After our keyword research and analyzing the links that were pointing at their old domain name we decided it would be best to register a new one. That is why we decided to choose boltonblindsandshutters.co.uk," explained Mr. Robinson.
An outdoor shot of a summer's day is used as the background to give the impression of looking out of your window.
A rotating banner highlights many of their unique selling points including:

Save up to 15% off your heating bill by fitting energy saving fabrics.
5 year guarantee on all blinds shutters and fitting.
Buy three blinds and get the fourth free.
"At Vizcom we believe that that initial impression is vital and once a visitor lands on your site you have only a few seconds to persuade them you are the right company to buy from. For that reason we like to add 'sales messages' or unique selling points to a rotating banner so the visitor is convinced of the company's credibility," believes Dan.
The site also features a call back form (top right) and the phone number is featured in the header.
"We always add a call back form to our websites and make sure the phone number is displayed prominently. You have to think that the visitor maybe unsure of what they want or could be viewing the site late at night," said Dan.
"The call back feature is working really well. In the morning I often have a few to follow up on. It is a great opportunity to sell our products over the phone to potential customers who have already shown an interest," said Simon.
The new site also features a link to one of their ranges by top blind manufacturer Eclipse.
This allows the visitor to design their own room by choosing various types of blinds and colors.
It gives the customer an idea of how the blinds or shutters would look in a room setting before buying.
Simon decided to re-brand the company at the same time and Vizcom updated their logo. The same colors were used to add continuity but the graphics were modernized.
As well as blinds and shutters Bolton Sunblind Centre has begun to sell curtains which are ready-made or made to measure.
"Many of our customers asked could we provide curtains so we decided to stock the range by Ashley Wilde," said Simon.
"The range by Ashley Wilde is very popular and includes five different styles and many different colors to choose from," added Simon.