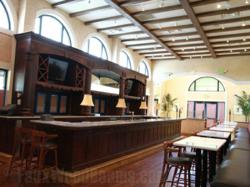 Faux beams create Italian elegance
Deer Park, NY (PRWEB) June 27, 2013
Brio Tuscan Grille chose Faux Wood Beams to create the perfect look for its Utah and Austin, Texas, locations. The company wanted an eye-catching ceiling design with all of FauxWoodBeams.com's smart features.
"Brio was terrific to work with. Each restaurant has a completely different look, yet there's a bit of continuity that's both friendly and elegant," said Steve Barron, president of Barron Designs.
An old Italian proverb about food says that "the first bite is with the eyes" so Brio wanted to create an atmosphere that would bring the feeling and flavor of Tuscany to its locations. The designs incorporate a warm, friendly color palette mixed with fake beams that evoke rustic Tuscan ceilings mixed with elegance.
For the Utah location, Brio chose Custom Woodland Beams to mimic a crisscross ceiling design that is structural in Europe, especially Italy. Here they did it purely for decoration, but customers can't tell the difference.
Woodland is a very popular style that's also been chosen by TV shows like "Extreme Makeover: Home Edition" for its renovations and stores like Brothers. That's because it has a deep-grain feel that comes from being molded from genuine timber to capture the knots and texture of the real thing.
But Brio doesn't believe in being cookie cutter so, while keeping a warm, welcoming look, the Austin, Texas, location created a completely different design using Custom Tuscany Beams. This time Brio used the rich, raised grain texture of Tuscany beams to evoke Italian Alps chalet beams. That rustic touch contrasts beautifully with the elegant design.
Because these fake beams are hollow and available as three or four sided, it's easy to install recessed lights, vents and speakers. That's very convenient for restaurants.
All FauxWoodBeam.com products are made of durable polyurethane and molded from genuine wood so it has the same look and feel as if it was made from a tree. Unlike real wood, it won't rot, warp or attract termites so it will last a long time with very little maintenance.
"Restaurants don't want any downtime – it means they're not making money," said Barron. "Real wood needs to be maintained and resealed on a regular basis, leaving behind odors a restaurant doesn't want in addition to having to close for that maintenance. Brio realized they could create a great look without any of those inconveniences."
About FauxWoodBeams.com
Faux Wood Beams is an industry leader for providing realistic polyurethane wood beams, ceiling panels and architectural items. Its products have been regularly featured on television shows such as "Brothers on Call," "Celebrity Apprentice," and numerous appearances on "Extreme Makeover: Home Edition." FauxWoodBeams.com is a subsidiary of Barron Designs, Inc., a family-owned home improvement business operating since 1972. For more information, visit FauxWoodBeams.com