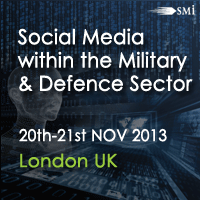 "I am thrilled to participate in this conference..."
MOD France
London, UK (PRWEB UK) 25 June 2013
The conference taking place on 20th and 21st November 2013 promises to showcase the latest technology and inform attendees of new platforms and how to use them to an advantage from a military and defence perspective.
This year's event will see Ben Harknett, Head of Regional EU Sales & Client Services from Wildfire Google present for the first time on increasing social engagement and amplifying marketing efforts. He will also be providing delegates with a unique insight into maximising social ROI.
Wildfire Google will be joined by UK MOD, US Army, Irish Defence Forces, MOD France, DSTL, Nato HQ, Swedish Armed Forces plus leading industry experts at the heart of social media.
BAE Systems who will be attending the event recently stated:
"I am returning to this year's Social Media in Defence not just to speak but to learn what best practices are out there and to ensure we stay at the top of our game. Social Media is moving so fast, you must take a moment and learn from those around you or you will get left behind." Vice President, Digital Strategy - BAE Systems
To learn more about the conference visit: http://www.smi-online.co.uk/2013military-socialmedia27.asp.