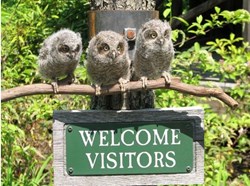 Role Model Stewardship in Western North Carolina
Asheville, North Carolina (PRWEB) June 25, 2013
Balsam Mountain Preserve, a private North Carolina mountain community is most unique in its philosophy and implementation of the Balsam Mountain Trust. In fact, it would be difficult to find another master planned community in Western North Carolina that provides the level of commitment to the stewardship of their natural surroundings that this private country club community enjoys.
To begin with, Balsam Mountain Preserve is comprised of 4,400 acres at a significant elevation on the Blue Ridge Mountains, close to the Blue Ridge Parkway Waynesville entrance. Residents here don't reside near a nature preserve, they reside WITHIN ONE. Significantly, only about 25% of that acreage is planned to contain homes. This means that when residents step outside their front door, they are met with the sights and sounds of the natural world because almost 75% of the land is a permanent conservation easement; it can never be developed and will remain in this park-like state for generations to come.
The Balsam Mountain Trust has been created to ensure its unending management. The trust is a recognized nonprofit organization "funded in perpetuity, by real estate transfer fees as well as donations and grants" with a mission of "stewardship of the natural and cultural resources" in the region. The mission is carried out in many different ways, all benefitting not only this private North Carolina mountain community but anyone interested in appreciating our natural world.
Balsam Mountain Trust has two dedicated naturalists on staff. These highly experienced naturalists come from diverse backgrounds and carry out the mission of the trust with passion and commitment. In addition to managing, protecting, inventorying, and interpreting the resources on the preserve, they engage club members through their enthusiasm and appreciation for the outdoors. As they educate members, they nurture their interest wildlife and culture of the land they call home. Programs include Birds of Prey, Cultural Arts, and Scientific Research. To date, there have been 35 scientific research programs conducted on the preserve. Balsam's naturalists are invaluable to the preserve because of their intense knowledge, association with visiting scientists, archeological explorers, and camera crews exploring information for their projects.
The Balsam Mountain Trust engages artists from around the world with somewhat of a reciprocal program. They invite artists to stay on the grounds for a week to be inspired by the grandest of views and the tiniest of flora and fauna that the preserve has to offer. Frequently, the visiting artists invite interested club members to explore with them and witness the artist's artistic process. At the end of the week, the artist displays the art produced and discusses his or her experiences and the inspiration of the preserve. Many of the artists donate art they produced which is kept on permanent display at the Nature Center.
UPCOMING BALSAM MOUNTAIN TRUST JULY EVENTS:
July 4, 2013 - A Real 'BLAST' of a Fourth: Modern History of Firearms
July 11, 2013 - Abita Springs Beer Brewery: Inside glimpse of Abita Springs
July 18, 2013 - Coyotes - Myth and Biology
July 25, 2013 - Artist in Residence, Jo Ridge Kelley
In all, the combination of nature, history, and art elevates the quality of life for residents of Balsam Mountain Preserve, a private North Carolina mountain community so close the Blue Ridge Parkway Waynesville entrance.
About Real Estate Scorecard:
Real Estate Scorecard writes unbiased real estate reviews providing in-depth information about popular gated communities in Florida, Georgia, North Carolina, South Carolina and Tennessee, all in an effort to help people discover where to retire in the Southeast.
Website: http://realestatescorecard.com