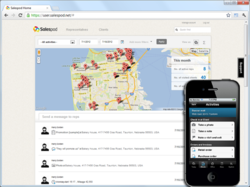 Binology is a key part of Salespod's global expansion.
Boston, MA (PRWEB) June 26, 2013
Salespod, Inc., maker of the Field Activity Management solution for field sales, retail merchandising and marketing organizations, announced today that it has certified cloud solution provider Binology (Pty) Ltd. to be the exclusive reseller of Salespod in South Africa. Duncan Boustead, sales and marketing director for Binology said this of the partnership: "Salespod is an exciting product which has the ability to revolutionize the way businesses manage their mobile workforce within South Africa. It's a perfect application to improve transparency and maintain compliance with customers. Salespod fits into Binology's overall business strategy. We are thrilled by the partnership and look forward to a mutually beneficial relationship."
Salespod is used in many industries to drive visibility, efficiency and accountability into Outside Sales, Merchandising and Marketing organizations. The cloud based solution is changing the way that companies manage their mobile workforce by leveraging mobile technologies to greatly streamline how information moves between the field and the back office. Known as an Agile Field Sales solution, Salespod drives efficiency in the mobile workforce by providing high value functionality on smartphones and tablets, including:

tracking the geo location of field teams and their activities
managing customer information
gathering data using custom forms and surveys
collecting orders
capturing photos and
conducting price checks
Salespod currently has resellers covering territories in Europe, Asia and Africa, and plans to expand its reseller network to augment direct sales in North and South America.  Salespod co-founder and CEO Marko Kovac said, "The relationship with Binology is a key part of our expansion strategy.  They bring a deep understanding of the local business, and can help reach into the market in way we would not be able to do without them".  
About Salespod:
Salespod specializes in developing mobile software solutions for enhancing sales processes for the FMCG (fast moving consumer goods) industry, the pharmaceutical industry and the cosmetic industry. Since their founding in 2008, the vision has been to offer the most comprehensive and convenient mobile solutions on the market for sales and mobile management. Coined the "swiss army knife for your mobile workforce", the software is used by L'Oreal, Lavazza, Keune Haircosmetics, Julius Meinl, Jaegermeister and many others. Salespod's solution is poised to change the way field sales teams communicate, collaborate, and conduct business. This is a fundamental shift occurring in outside sales and merchandising. Gone will be the days of clunky CRM systems. For more information or a free trial, go to http://www.salespod.net. For industry news and reports, visit the Salespod blog at http://www.salespod.net/blog/all-news/ or Twitter.com/salespod.
About Binology:
Binology enables small medium enterprises to have access to applications originally only available to large corporations, and to manage your company anywhere off any device. Binology provides solutions that will reduce the cost of ownership of IT for business.