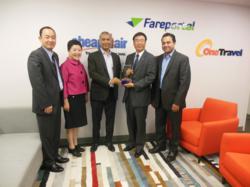 New York (PRWEB) June 27, 2013
Leading travel website CheapOair was awarded the Top 25 Sales Achievement Award for 2012 by Korean Air, the largest airline in South Korea. This is the third consecutive year CheapOair has won this award, in addition to being recognized by Korean Air in 2009 with its Outstanding Sales Agency Award.
"This progression demonstrates CheapOair's continued dedication to and success in offering its customers quality solutions that help them travel the world for less," said Sam Jain, CEO of CheapOair.
"We would like to thank CheapOair for their remarkable sales achievement for Korean Air in 2012," said Jong Woo Seo, Regional Manager of New York at Korean Air, who presented the award to Sam Jain, CEO at CheapOair, on June 13, 2013 in New York. "Sales have substantially increased and our partnership is much valued. We appreciate CheapOair's support and effort to sell our award-winning products and services."
Jain added that, "CheapOair is honored to once again receive this award. We look forward to our continued success with Korean Air, and to helping ensure our customers have the widest choice available to reach destinations around the world."
Analyzing its trends data throughout 2012 and into 2013, CheapOair has noted increased bookings to Seoul, South Korea, Shanghai, China and Bangkok, Thailand, destinations all served by Korean Air. With its strong supplier relationships and partnerships with airlines like Korean Air, CheapOair offers its customers value-added travel deals to the destinations they want to experience worldwide.
ABOUT CHEAPOAIR
CheapOair.com is a top travel website for millions of travelers who expect more for less. CheapOair scans over 450 airlines in seconds to return guaranteed low prices on flights, hotels, car rentals and vacation packages, making planning and booking trips easy and hassle-free. With 24-hour support by phone and live chat, award-winning apps for iPhone and Android, and travel tips on Facebook and Twitter, CheapOair makes affordable travel possible anytime, anywhere. Book travel on http://www.cheapoair.com or call 1-800-566-2345.
ABOUT KOREAN AIR
Korean Air, with a fleet of 154 aircraft, is one of the world's top 20 airlines and operates almost 400 flights per week between the Americas and Asia. The airline serves 125 cities in 45 countries. It is a founder of SkyTeam, the airline alliance including Aeroflot, AeroMexico, Air France, China Southern, Alitalia, CSA Czech Airlines, Delta Air Lines and KLM, among others. More information is available at http://www.koreanair.com.