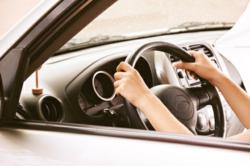 G1 drivers must follow a set of rules and restrictions designed to help them learn to drive safely.
(PRWEB) June 25, 2013
Ontario uses a graduated licensing system that every driver must pass through in order to become fully licensed. New drivers will start with a G1 license, which is a learner's permit. They can then, after a certain amount of time, take a road test for a G2 license. This license still comes with restrictions. Once the driver passes a second road test, they will become a fully licensed G2 driver without additional restrictions. The entire process takes on average a little less than two years. These tips from InsuranceHotline.com will help new drivers understand how to obtain a license in Ontario.
G1 License
In order to obtain a G1 license, potential drivers must be 16 years of age and they must first pass a written knowledge test as well as a vision test. The written knowledge test is based on information in the Ontario driver's handbook that all new drivers should study before taking the test. Once you have passed, you will be given the G1 license. This is a learner's permit, which allows for practicing to drive and prepare for the next stage. G1 drivers must follow a set of rules and restrictions designed to help them learn to drive safely. These restrictions are:

You must have a driver in the passenger seat at all times who has been fully licensed for at least 4 years and has a blood alcohol level of 0.05%, and they must be the only person in the front seat
You must have a blood alcohol level of 0%
You can not have more passengers than there are seatbelts in the car
You must not drive between midnight and 5 a.m.
You must not drive on 400 series freeways
Failure to abide by these rules can result in a suspension of a G1 license and cause the driver to have to wait longer to move on the to the G2.
G2 License
Once the driver has held a G1 license for at least 12 months, the driver can take the road test to obtain a G2 license. This time can be shortened if the driver completed an accredited Ontario driver education program. And by completing a driver's education course by an approved driving school, the driver may also qualify for a discount when obtaining car insurance quotes.
In order to get the G2 license, the driver must pass the road test. There are still a few restrictions to obey even after passing this test. Although a fully licensed driver is no longer required to be in the car, the G2 driver must still be required to have a 0% blood alcohol level and have only as many passengers as there are seatbelts.
Additionally, drivers 19 and under must not carry more than one passenger under 19 during the hours from midnight to 5 a.m. The exception to this is if the passengers are immediate family members or if there is another driver in the car with at least 4 years experience. This restriction is lifted after 6 months.
Completing the Graduated Licensing Program
After the G2 license probationary period of 12 months, the G2 driver may take another road test. Once the test is passed, the license will become a full G license with no restrictions. Fully licensed drivers can drive whenever and wherever they want and with any passengers, as long as the rules of the road are followed. This is the final stage of the Ontario graduated licensing program.
Obtaining a Driver's License Upon Moving To Ontario
In most cases, a fully licensed driver moving to Ontario can obtain a license without having to go through the graduated licensing system. Ontario recognizes the driver's license from all of Canada's provinces and territories, and will allow drivers to exchange that license for an Ontario G. Some other countries have a similar equivalency, but some will require testing.
If the driver hold a learner's permit when you move to Ontario, the driver will be required to go through the graduated licensing system just like any new driver in the province.
Ontario has a graduated licensing system to allow new drivers to learn and become good, safe drivers before being given a full license. This system allows new drivers to learn slowly and ensures that everyone on the road is as safe as possible while a student driver hones his or her skills. Obtaining your Ontario driver's license is a long process, but that process helps to create good drivers for the future.
About: InsuranceHotline.com is a free online insurance rate comparison service that directs consumers to its large network of more than 30 insurance companies and licensed insurance professionals and provides quotes based on the lowest rates available through its network. In business since 1994, InsuranceHotline.com does not sell insurance, is not a licensed broker, and is not owned in whole or in part by an insurance company, agent or brokerage; ensuring consumers get a truly unbiased quote.