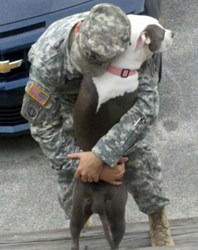 (PRWEB) June 25, 2013
Dogs are man's best friends. That friendship is evident nowhere like it is evident between a Wounded Warrior and his service dog. On Saturday July 13th at 10 a.m. in the ballroom of the Nimitz Museum of the National Museum of the Pacific War, you can witness that friendship in person.
Due to prior obligations, the museum will not be having the usual War Dog demonstration in the courtyard in the morning.
TADSAW (Train a Dog Save a Warrior), along with their four legged friends and the warriors they assist will give a presentation on the importance of the use of dogs for helping wounded warriors and utilizing dogs for Animal Assisted Therapy. One of the TADSAW dogs was recently inducted into the Texas Animal Hall of Fame as Hero Dog of the Year.
Dennis Blocker, USAF (Ret) and his retired war dog Laky, will talk about their training, experiences overseas, and dealing with dogs with PTSD (Post Traumatic Stress Disorder).
This program is free to the public. For more information contact Brandon Vinyard at vinyard(at)nimtizfoundation(dot)org or by phone at (830)-997-8600 x205.
The Train a Dog Save a Warrior program unites wounded warriors, suffering with PTSD, with homeless, rescue shelter dogs, who are evaluated and deemed viable, to nurture a healing and rejuvenating bond between the two. The result is a positive, non-judgmental, unconditional relationship desperately needed by both.
The National Museum of the Pacific War is a Texas Historical Commission property supported, operated, and managed by the Admiral Nimitz Foundation.