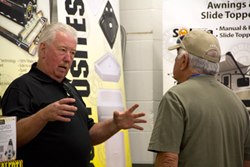 I really appreciate LCI's commitment to the customer by coming to this rally. They're putting on seminars and providing demo equipment for us. They're providing rally specials and the alignment check station – so, thank you Lippert Components
Goshen, Indiana (PRWEB) June 25, 2013
Lippert Components, Inc. (LCI™) performed complimentary laser alignment and safety checks on more than 100 RVs and installed more than nine Level Up® systems during the North American Heartland Owners Rally at the sunny Elkhart County Fairgrounds on June 18-23.
General Manger Steve Paul, Sonny Dismuke in Product Development and their team from LCI lead seminars and gave product presentations and plant tours to attendees. The team was on hand all week to answer questions, provide safety tips and get feedback from customers on products.
"The Heartland Rally gives us a great opportunity to talk to people who are using our products every day," said Paul. "We need their feedback so we can continue to provide the best products."
Heartland Owners Club President and Director of Owners Interests for Heartland RVs Jim Beletti was happy to see LCI at the rally following up with customers. "I really appreciate LCI's commitment to the customer by coming to this rally. They're putting on seminars and providing demo equipment for us. They're providing rally specials and the alignment check station – so, thank you Lippert Components!"
Heartland RV owner Kim Miranda from Florida agreed. "This is great! They send mechanics here to do all these littler fixer-upper things for us."
Miranda is proud of the Level Up system he purchased two years ago. "After we installed it and went to the first park that night, pushed the button, and – oh my goodness – how easy! My back's not killing me! I don't have to carry blocks back and forth!" He added. "It's a totally awesome product."
About Lippert Components
Lippert Components, Inc. (LCI™) and Kinro, Inc., its sister company, subsidiaries of Drew Industries Incorporated (NYSE:DW), are industry leaders in a broad line of products dedicated to improving the mobile lifestyle. LCI and Kinro supply a broad array of components for RVs, manufactured homes, modular housing, truck caps and buses, as well as for trailers used to haul boats, livestock, equipment and other cargo, including chassis, fabricated steel chassis parts, slide-out mechanisms, axles, upholstered furniture, mattresses, windows, doors, leveling and stabilization equipment, suspension enhancement products, electronics, thermoformed products, and aluminum extrusion products.
Contact: Lippert Components, Inc.
3501 County Road 6
Elkhart, IN 46514
574-535-1125
http://www.lippertcomponents.com