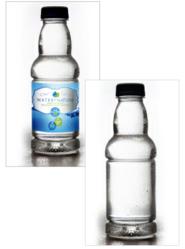 Willoughby & Cleveland, OH (PRWEB) June 27, 2013
The Kennedy Group, a leading provider of labeling, packaging, and identification solutions, is complementing its industry-leading family of pressure sensitive labels with a new line of bottle-to-bottle labels. Designed for PET (polyethylene terephthalate) bottles and packaging, these labels are in the process of being recognized by The Association of Post Consumer Plastic Recyclers (APR) for the food-grade recycling stream.
As part of the APR's Champion's for Change Program, The Kennedy Group developed packaging innovations resulting in a comprehensive recycling solution. The Kennedy Group's clear and white film bottle-to-bottle labels address label, adhesive, and ink requirements for food-grade recycling. Once approved, Kennedy B-2-B Labels will be one of the only labels on the market to meet APR protocols for all three elements of the label.
The new labels offer a point of differentiation for packaging designers, brand owners, and consumers. These labels deliver great shelf presence for the brand, and let consumers know that the brand is promoting recycling and sustainability – protecting our environment. Consumers feel they're part of the sustainability process by purchasing products with environmentally friendly packaging. They're helping to reduce waste in landfills and protecting our natural resources.
To be part of the recycling stream for reuse in food-grade packaging applications, labels must be successfully removed from the PET reclamation process. These new Kennedy Group pressure-sensitive labels are ideal for improving recycling efficiencies and the overall quality of post-consumer plastics. And, they have the same clarity and appeal of traditional pressure-sensitive labels. Everybody wins.
The APR provides guidelines to help ensure that innovations in the recycling of plastic materials are compatible with existing and new methods in the recycling stream. APR offers a Recognition Program for companies that meet its Critical Guidance protocols.
For more information about flexible packaging and other labeling products available from The Kennedy Group, visit the company's website at http://www.kennedygrp.com.
About The Kennedy Group
The Kennedy Group, a family owned and operated business since 1974, is a leader in providing market-tested and innovative solutions to help customers package, promote, identify and track their products.
Headquartered just east of Cleveland, Ohio, The Kennedy Group is based in an
80,000 square foot corporate facility with global reach to serve and supply our customers in 40 states and seven countries. Our leadership and solutions contribute to the success of customers in the consumer products, automotive, material handling, biomedical, healthcare and chemical industries.
The Labeling and Packaging Division is a high-quality, low-cost producer of pressure-sensitive and roll film products. With multiple printing facilities in Cleveland, Orlando, and Pensacola, The Kennedy Group can handle large volume orders, while providing quick lead times and competitive shipping costs.
The Material Handling Identification Division produces the flagship placard label holders, nameplates, and identification products that are applied to reusable containers, racks and storage areas. This division also provides complete RFID solutions, from initial exploratory site planning through implementation and post-implementation maintenance. Kennedy's professional RFID services include hardware, tag selection and application, software and integration.
The Promotional Response Products Division is the leader in front-page advertising solutions, offering an assortment of colorful, stick-on notes, booklets, and cards that function as impactful, removable advertisements on the front pages of more than 400 newspapers nationwide with a circulation exceeding 40 million.
To learn more about The Kennedy Group and the products, services, and solutions provided by these divisions, visit http://www.kennedygrp.com.