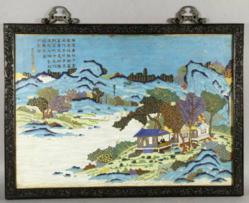 Beverly, MA (PRWEB) June 27, 2013
With over six hundred lots, the June Fine Chinese and Asian Arts and Antiques Auction at Kaminski on June 22nd saw the successful sale of a wide variety of Chinese objects, including ivory, jade, bronze, porcelain, silk, and hardwood pieces—all selling with an eighty-one percent pass rate.
While a few high selling lots became the clear stars of the auction, the sale performed very well overall. The majority of lots sold within or above estimate, indicating the high quality and desirability of the items selected for the sale by Kaminski's Asian appraiser Bob Yang, with the aid of Asian Department Assistant Helen Eagles. Mr. Yang joined the Kaminski team in November 2012, and has since brought a deep knowledge of Chinese antiques as well as a wide variety of truly intriguing and valuable objects to each auction.
Of the stand out lots of this sale, the highest grossing was a large carved hardwood screen that stood 73" tall. The screen featured figurative carving to both sides, broken into multiple panels. An online bidder purchased the piece for $14,000.
A large huanghuali arm chair also commanded a high price for its beautiful carvings. Raised on a huanghuali platform, the chair featured carved dragons on the headrest, seat back, and skirt. This impressive piece of furniture sold for $11,000, far above the $5,000 original high estimate.
A rare cloisonne plaque from the collection of a former Boston College professor also displayed impressive artistry as well as veritable age. The eighteenth century Chinese Qing Dynasty plaque depicted a range of azure mountains against a sky of the same color, and in the lower portion, elegantly bent trees shading a small building with a lone inhabitant. The scene also included an inscription in the top right hand corner. Many bidders competed to own the plaque, which ultimately sold for $12,000.
A decisive absentee bid out performed a number of eager buyers on the floor and online for a bronze figure of Yama, seven inches in height. The eighteenth or nineteenth Tibetan figure of the wrathful god also sold for far above its estimate, fetching $9,000.
One of the most highly anticipated lots of auction was a red glazed vase from the Chinese Qianlong period of the Qing Dynasty (1736-1795). The vase featured a bamboo shaped neck that opened into a wide bulbous body, and had been preserved in excellent condition. After intense bidding on the floor and online, the final hammer price of the vase came to $8,000. Other high selling porcelain lots included a pair of famille rose boy figures from the Qing Dynasty, also in very good condition, which sold for $4,250, and a pair of finely painted landscape plaques in rosewood frames for $4,750.
The sale additionally included a number of silk and embroidered pieces, the most impressive of which was a yellow Chinese imperial embroidery. The 92" x 44" length of fabric was filled with detailed and multi colored embroidery outlining the sinuous curves of five clawed dragons amongst billowing clouds and waves. Originally estimated at $4,000 to $6,000, the embroidery was finally hammered down at $11,000.
The smaller jewelry items included in the sale were equally impressive. Many bidders were especially drawn to a Chinese pearl necklace of the later nineteenth century. Sold for $11,000, the stately necklace consisted of a string of 106 large pearls rich with iridescent pinks and purples and accented by carved coral beads, turquoise, lapis, agate, and cloisonne elements.
Equally impressive in quality was a white jade brush holder, carved in the form of a mountain range. The very high quality piece of jade carried a carved Shiru mark, and rested upon a zitan wood stand. The hammer price for the same to $5,500.
With the conclusion of this summer auction, the Asian Arts and Antiques Department at Kaminski looks forward to their fall Asian auction, to be held on September 21st.
KAMINSKI
Kaminski Auctions, located on the North Shore of Boston, has been serving the New England antiques market for over 25 years as a full service auction house and appraisal service for fine art, antiques and estates.
With two locations in Beverly, Massachusetts, including a new state of the art auction gallery located at 117 Elliott Street, and a historic 1850's barn and office facility at 564 Cabot Street, Kaminski Auctions hosts 25 auctions a year.
In today's highly competitive market of fine art and antiques, Kaminski Auctions provides its customers with bicoastal services and marketing with west coast offices in Beverly Hills and San Diego, California.
Kaminski Auctions offers specialty departments in Asian Art and Antiques, Silver, Glass and Lamps, Couture and Vintage Clothing, Photography and Modern Design . We have highly trained and knowledgable appraisers on staff that will help you determine the true value of your antiques, or entire collections. Free Appraisal days are offered every Tuesday from 10:00 a.m.-4:30 p.m. at our 564 Cabot Street location in Beverly, Massachusetts & by appointment at our 5171 Santa Fe Street location in San Diego, California. We welcome emailed photos of your items. Contact Harry Morgan - hmorgan(at)kaminskiauctions(dot)com.