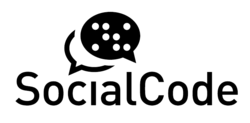 New York, NY (PRWEB) June 25, 2013
SocialCode (http://www.socialcode.com), the leading social marketing solutions provider, today announced the availability of its advertising platform for Twitter that introduces an advanced targeting system that reaches age demographics among other enhanced capabilities including: streamlined card creation and timed campaign scheduling. Access to the Twitter ads API has enabled SocialCode to incorporate such innovative features into its proprietary ad platform to boost client campaign success.
SocialCode located demographic groups on Twitter through extensive studies conducted by its internal research team, SocialCode Labs. Marketers can now combine these segments with Twitter's existing targeting capabilities to scope users at a more granular level, ensuring top tweet exposure and performance.
"We are thrilled to bring game-changing capabilities to Twitter advertising," said Laura O'Shaughnessy CEO of SocialCode. "Our expert teams are dedicated to conducting advanced research that is baked into our original technology to achieve exceptional overall campaign ROI. Making age targeting available on Twitter will equip our clients with increasingly efficient and effective campaigns, guaranteeing they reach users for whom specific campaigns were intended."
SocialCode's platform also streamlines the current process of creating Twitter cards, eliminating the need for engineering cards on client html pages. Clients now have the option to create multiple cards from one URL and to input a custom URL to redirect users to a desired destination. SocialCode also permits the testing of promoted only tweet content to a sample audience before a card tweet is pushed live to the feed, ensuring the most engaging content is optimized.
In addition, the platform's automated campaign system schedules campaigns for automatic launches and ebs and flows during key time frames such as TV commercial air dates or live events. Promoted Tweets can also be programmed at top-performing times of day and week to reach target users when they are most likely to engage.
About SocialCode
SocialCode is a leading social marketing solutions partner dedicated to driving cross-platform social ROI. Our capabilities are rooted in the advanced research of SocialCode Labs, empowering advertisers with outstanding campaign performance and community insight. Fueled by proprietary technology, SocialCode grows qualified communities, engages those audiences and activates them as customers and brand evangelists for many top national advertisers. SocialCode is a Facebook Strategic Preferred Marketing Developer (SPMD) and a subsidiary of The Washington Post Company.