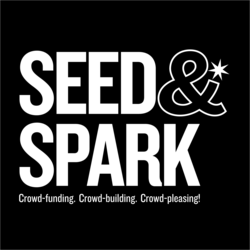 New York, NY (PRWEB) June 25, 2013
Seed&Spark, the world's first crowd-funding and digital distribution platform made just for independent film, launched two initiatives to shape the future of independent film by strengthening the ties between filmmakers and film audiences.
During this month's LA Film Fest, Seed&Spark hosted the first Innovators' Summit together with Film Independent and Cinedigm. The Innovators' Summit is a gathering of people from the film community to leverage the collective intelligence of innovators in film production, technology, finance and distribution. CEO Emily Best led a group of 50 participants through a series of exercises that painted various possible scenarios. The purpose was to imagine what could happen and examine the factors and forces that should demand the film industry's attention, investment and action.
Earlier this month, Seed&Spark launched a $30,000 crowd-funding campaign on its own platform to enhance the company's offerings and site usability. The Seed&Spark crowd-funding campaign WishList records specific needs for production, marketing, festivals, travel, crew and professional services. Supporters can opt to contribute with cash or to loan goods and services that are part of the Seed&Spark campaign WishList.
"We believe that in order to compete in a world of increasing fragmentation, creators' success will depend on their connection to and relationship with their audience," says Emily Best, Founder and CEO of Seed&Spark. "This is also true for our success with Seed&Spark as a whole. Our platform was specifically built to engage and connect independent filmmakers and audiences. We launched the Seed&Spark crowdfunding campaign to get feedback, support, and engagement from the very people we hope our improved platform will better serve."
Indiewire just named Seed&Spark's founder and CEO Emily Best among its 2013 Indiewire Influencers list. This year's list is dedicated to 40 people and companies who are asking the big questions about what the independent film industry is today (and why) and, more importantly, what it will become. It celebrates the people who are trying to get it right -- and even those daring to get it wrong.
Best is touring film festivals around the world to educate filmmakers about the opportunities offered by crowd-funding and the advantage of an audience-centric approach to filmmaking – from pitch to premiere. Upcoming appearances include the Galway Film Fleadh, SXSW V2V Las Vegas and the Austin Film Festival.
To help Seed&Spark change the future of filmmaking, support the company's crowd-funding campaign before June 29 by clicking here.
About Seed&Spark
Seed&Spark is building a truly independent filmmaking community where filmmakers and audiences come together for crowd-funding, production, and streaming distribution. Every time an audience member supports the making of a moving picture project (funding, following, sharing) they earn "Sparks" which can be redeemed to watch movies on the streaming platform.
Supporting films lets you watch more films: It's the new ecosystem for filmmakers & audiences, and…that's it! For more information, go to http://www.seedandspark.com and http://www.facebook.com/seedandspark, or follow us on Twitter at @seedandspark.