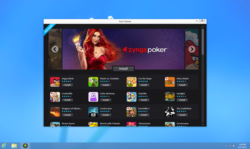 We're delighted to be working with Acer to bring the latest games from Zynga, Kabam, and more to the next generation of Windows 8 devices
San Diego, California (PRWEB) June 25, 2013
SweetLabs®, makers of the Pokki® app platform, today announced a partnership with Acer to create and preload Acer Games, a game arcade for new Acer Windows 8 PCs, and a partnership with Zynga to feature social game titles in Acer Games. Acer Games allows Acer customers to discover and play free, downloadable versions of the world's most popular web games instantly, out of the box, directly from the Windows desktop.
"Acer partnered with Pokki to pair up innovative software with cutting-edge hardware and deliver even more value to customers who buy the latest Windows 8 Acer PCs," said Jade Zhou, AVP Global Strategic Alliances at Acer. "With Acer Games, Pokki enables us to dynamically offer a rich selection of compelling games to our customers."
The Pokki app platform enables the creation of a range of modern app experiences on the PC, including the Pokki Start menu for Windows 8, hundreds of free apps in the Pokki app store, and the new Acer Games arcade now preloaded on Acer PCs. Underlying all of these experiences is an intelligent app recommendation and monetization system that has served over 500 million app recommendations to-date on Windows PCs. The Pokki app platform presents manufacturers the opportunity, like with Acer Games, to dynamically offer desktop apps and games on their devices and open new revenue opportunities.
"We're delighted to be working with Acer to bring the latest games from Zynga, Kabam, and more to the next generation of Windows 8 devices," said Jim Geison, VP Business Development at SweetLabs. "Pokki brings a new, dynamic model to recommending apps and games on devices out-of-the-box, striking the perfect balance between great app experiences and revenue opportunities."
The Pokki app platform enables developers to create modern, native-like desktop versions of their apps, and then distribute the apps through a large network which now includes device manufacturers like Acer. Zynga is the latest addition to the Pokki Game Network™ and a marquee launch partner for Acer Games, with all of Zynga.com's web game titles including FarmVille 2, Hidden Chronicles, Matching With Friends and Zynga Poker now available for free download in Acer Games and the Pokki app store. The Zynga Pokki apps preserve the quality and immediacy of browser-based social gameplay within a self-contained app, a single click away, and always available to PC gamers.
"Today's partnerships with Acer and Zynga signify our overarching goal of connecting creators of great apps with the right users, and are an important step towards improving the way apps are discovered and distributed on the PC," said Darrius Thompson, co-founder and CEO at SweetLabs. "Preloading Pokki's app platform on Acer's consumer PCs and bringing Zynga's social game titles into our catalog are exciting wins, further validating that we can make the PC experience better for users, developers, and device manufacturers."
To learn more about the partnership and view an Acer Games video tutorial visit the Pokki blog at http://blog.pokki.com/?p=1015. For media relations inquiries contact Alan Masarsky at alan@pokki.com.
About SweetLabs
SweetLabs® is a startup making the PC better for users, developers, and device manufacturers. SweetLabs is the company behind Pokki®, an app platform bringing modern app experiences to the PC, including next-gen desktop apps and games, a Start menu replacement for Windows 8, and an intelligent app recommendation system to connect creators of great apps with the right users. SweetLabs was founded in 2008, and was recognized as one of the "Best Place to Work in San Diego" by San Diego Business Journal. SweetLabs is backed by Bessemer, Google Ventures, Intel Capital, and O'Reilly AlphaTech. Visit http://www.sweetlabs.com for more information.
# # #