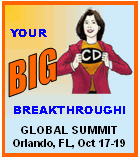 Known for innovation and excitement, CDI's newest annual conference offers a 24/7, 365 day immersion approach to learning for attendees.
Melbourne, Florida (PRWEB) June 26, 2013
When the global association of resume writers and career coaches, Career Directors International (CDI), approaches learning for their members they think a little differently about it than the norm. Such is the case with their 2013 Global Career Empowerment Summit this October.
CDI President, Laura DeCarlo, states, "It doesn't matter what industry you are in, learning has to be responsive, engaging, and even entertaining. If conferences are boring, the content is stale, or they don't provide a venue for connecting, discussion, and synthesizing learning, it's more cost effective to stay home. We've opted to make over the entire event to create a fun, engaging, rich, and forward-thinking program."
And, CDI's members are responding positively. Some members, like Grant Cooper of CareerPro of New Orleans / Strategic Resumes, are actually attending their 12th consecutive conference – every annual event ever hosted by CDI, which is more than even their President can boast. The reason is simple, Grant states that he simply cannot afford to miss out; it's not just a vacation but the opportunity to stay up on what he needs to maintain a high six-figure income in his business. His experience with CDI's event is not unique. What members have to say can be viewed on CDI's website.
That's another differential between CDI and the average conference for resume writers and career coaches. The organization harnesses the top industry minds in business, marketing, sales, and technology to balance the importance of learning new trends in the craft of resume writing and career services with that of entrepreneurial business success.
DeCarlo says, "Too often members of our industry get caught up in the need to know everything they can about the services they provide. While that is critical, it is not enough if you can't make a comfortable living and enjoy what you do."
This year CDI has continued to harness new approaches for its conference attendees. Some of these include:

Lead-in structured networking session to break the ice and immediately find those individuals who will be their best connections.
Buddy matching to guide first-time attendees and new members to get the most out of their experience.
Private online discussion group for registrants which allows the conversation to start immediately and never end with networking before, during, and after the Summit.
15 high-energy learning sessions across three days (not breakouts) to give attendees a wealth of relevant and forward-thinking information.
Hands-on exercises and activities in every session to keep attendees on their toes and to truly cement their learning.
Closing activities in each session to create takeaways, action plans, and tools for putting new data to work.
In-depth Q&A sessions at the end of the day to sum up learning and take it to the next level.
Balanced program that delivers the newest and hottest trends in resume writing, career services, and business-building/business management.
Time and location to play – the CDI Summit is always 'right in the middle of the action' and again delivers with a schedule and location that creates a cost-effective and fun-filled vacation.
CDI's innovative focus continues to deliver programs that are years ahead of the competition so that attendees can be ready for what's here as well as 'what's coming next'. But, time is running out for career and resume professionals to take advantage of joining their peers at CDI's 2013 Global Career Empowerment Summit. CDI limits its registration to 100 people and once that number has been reached. Further the special Early Bird rate and payment plans will both be coming to an end on July 1st.
Industry professionals can learn more about CDI's Summit on their website.
About CDI: Career Directors International – http://www.careerdirectors.com
CDI is a global professional association that is committed to ensuring that career and resume professionals can grow and thrive in a rich, vibrant, exciting, safe, and nurturing environment. CDI is focused on championing the industry's cause for credibility and visibility; fostering exceptional success in every generation of career and resume professionals; and cultivating the career superhero that exists within each one of us.