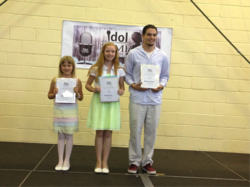 New Jersey's Top Vocal Competition, sponsored by Idol Time vocal Academy, had incredible talent and an overwhelming turnout.
Brick, NJ (PRWEB) June 25, 2013
On Saturday, June 15th, 24 talented vocalists competed in the finals of the Idol Time Vocal Academy Fundraising Singing Competition. The finalists were selected from over 100 entrants! Taking place at the Brick Civic Center, over 200 people came out in a show of support for the contestants and the Ashley Lauren Foundation, the charity that received the proceeds from the competition. Serving children throughout New Jersey who have cancer and their families in a variety of ways, the Ashley Lauren Foundation is truly a treasure.
First-round auditions were held at Idol Time, 2140 Route 88 in Brick, on June 1st and 2nd. Three judges had their work cut out for them as they diligently narrowed the field. Kayla Caffrey, owner of Idol Time, who was so impressed with all the talent seen during the audition process, stated "I'm glad I was not a judge!".
Finalists were notified and excitement grew as the 15th approached. Celebrity judges included Joanne Cruise, a radio personality for over 20 years and comedian who appears at Caroline's on Broadway, and Emmy Award winning songwriter and musician, Mike Dalton. WOBM-AM's Marianne Levy was slated as the 3rd judge, but took ill right before the contest. Kristen Della Sala, a Rutgers University student and accomplished vocalist, stepped right in and filled the spot!
Linda Bogan, who sits on the advisory board of Kidz-4-Kidz, the theatrical arm of the Ashley Lauren Foundation, did a great job as emcee introducing all of the contestants as they took center stage.
There were three age divisions with one Grand Prize Winner awarded in each group. Seven-year old Mary Jodry won the 6-9 division with her sweet rendition of "Part of Your World". Twelve year-old Sydney Burton impressed the judges with her performance of "I See the Light" and took home the Grand Prize in her age group. Brannon Sweigart wowed the judges with his interpretation of "Hallelujah" in the 14-17 division.
Each prize package included $500 cash, a 3-month scholarship to Idol Time Vocal Academy group classes, a professional recording session at Idol Time, and an invitation to perform at the Historic Strand Theatre in Lakewood opening for the Kidz-4-Kidz production of Peter Pan at the end of July. For tickets call 732-255-9638.
Idol Time looks forward to working with the Ashley Lauren Foundation again next year and anticipates an even larger turnout – which is sure to make the judges' job even more challenging!
Click to Visit and learn more about Idol Time Vocal Academy.