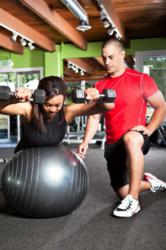 Those who have trained with a personal trainer at Wilmington Performance Lab review the staff as professional, patient, and personable.
Wilmington, North Carolina (PRWEB) June 27, 2013
Wilmington Performance Lab now specializes in Personal Training in Wilmington NC. Beginning June 23, 2013 WPL offers one on one training through one of their many certified personal trainers. Their focus is different from other personal training techniques: when you hire a personal trainer from Wilmington Performance Lab, you can expect the best. Each personal trainer works with compound movements, meaning they find the exercises to work multiple muscles at once, leaving you with a workout to keep burning calories and fat for hours afterwards. Wilmington Performance Lab replaces lateral raises with push-presses, replaces the curl with pull-ups, and replaces simple leg extension with squats.
Wilmington Performance Lab also focuses on high-intensity cardiovascular workouts. These workouts help you burn fat in a shorter amount of time. Each personal trainer combines functional movements involving multiple joints with high-intensity cardio workouts for a radically efficient exercise their clients feel satisfied with. The purpose of Wilmington Performance Lab is to offer Personal Training in Wilmington NC to the general public and athletes, giving knowledge and expertise on state-of-the-art techniques, technology, and coaching methods.
Those who have trained with a personal trainer at Wilmington Performance Lab review the staff as professional, patient, and personable. Clients feel comfortable speaking with the staff because they listen and help their clients work on any and all problems they come across or are trying to overcome. Clients are able to reach, and sometimes surpass, their fitness goals with great results.
Wilmington Performance Lab also focuses on nutrition. Their approach is to keep it simple by having their clients eat more protein, whole grains, fruits, and vegetables, but specifically to eat them at the right times. Their focus is on the times their clients eat, what they eat, and the amount they eat. Combining these three focuses allows their clients to teach their bodies the proper way to function so their workouts are more beneficial and progress is noticed sooner.
The only place you'll find truly original personal training in Wilmington NC is at Wilmington Performance Lab. Each client is trained for short, middle, and long distances and challenges their body dynamically and statically through cardiovascular and strength training. Each personal trainer encourages their clients to explore a variety of sports to expand their fitness levels.
Background on Wilmington Performance Lab
Chris McAbee and his wife, Rebecca, started Wilmington Performance Lab in January 2011. Chris earned his Exercise in Sports Science degree with a minor in Communication Health from the University of North Carolina at Wilmington where he found a love of fitness. He held an internship at Fitness for Life before moving on as an independent contractor at Crest for five years building his business. Once he had a steady group of clients he decided to open up his own facility. Rebecca started as a Special Education Teacher before realizing her passion for fitness and opening Wilmington Performance Lab alongside her husband. They both use their love for fitness as fuel when training their clients and are grateful for the benefit of watching their clients succeed.