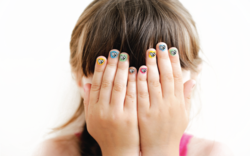 Unlike nail polish, these Tattoo Nail Art sets don't require any nasty chemicals, [] or even require adult supervision.
Denver, CO (PRWEB) June 27, 2013
Poppy Drops, known for its innovative pierce-free earrings, is stepping outside the box again with their newest creation--Tattoo Nail Art.
Beloved by parents far and wide for their devotion to darling and safe kid-friendly designs, Poppy Drops has just released an all new product that brings the fun of nail art to kids without any hassle. Their Tattoo Nail Art is the first manicure of its kind that's suitable for little ones while appealing to everyone, and a must-have for back to school and even Santa's shopping list.
Unlike nail polish, these Tattoo Nail Art sets don't require any nasty chemicals, give off nose-wrinkling smells, or even require adult supervision. Parents don't have to worry about spilled polish or ruined furniture, and all they need to get started having fun is a little bit of water. Like all of Poppy Drops' products, their nail art is made from all-natural, kid-safe ingredients.
Looking for Christmas ideas before the rush? Grab some kids' stocking stuffers with these adorably sized tubes of art in a bounty of vibrant colors and kicky designs. Each set of Tattoo Nail Art comes with 20 matching patterns for a complete head-to-toe look. Choose from a wide range of exciting styles like hot pink zebra hearts, paisley raindrops, and more! Looking for a fun way to motivate? Poppy Drops Nail Art is a great tool for breaking bad habits like motivating kids to potty train or helping kids stop biting their nails.
Poppy Drops are proudly made in the USA and are FDA approved and certified by the Consumer Product Safety Commission for use by children. In addition to their kid-centric lines, the brand has expanded to include grown up offerings that are still made with the same all natural, 100% food-grade vegetable dyes, so even the most health-conscious gal can have fun.