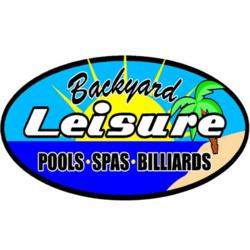 Pool and spa maintenance has never been easier thanks to the advanced products found at Backyard Leisure
Raleigh, North Carolina (PRWEB) June 27, 2013
Backyard Leisure is Carolina's top choice for swimming pools and hot tubs. This comes from their incredible selection, unmatched prices, and dedication to easy ownership. Currently Backyard Leisure is selling some of the best products for keeping your hot tub, above ground pool, or inground swimming pool crystal clear with less work & effort than ever before. Spending less time and money on maintenance allows for more time in the water. In today's tough work environment and busy schedule, no one wishes they had to do more to maintain their pool or spa! Backyard Leisure makes ownership a breeze.
CLEARRAY
The CLEARRAY Water Purification System by Jacuzzi uses UV-C ultraviolet light technology to completely eliminate waterborne pathogens. This means no more dry skin or red eyes. Plus, the addition of this system will significantly reduce the amount of sanitizer needed to keep your hot tub clean and ready to use. The prestigious awards program ADEX recently awarded CLEARRAY the Platinum ADEX Award for innovation and design excellence. Although CLEARRAY is made by Jacuzzi, the highly respected installers of Backyard Leisure can add it to any of the hot tubs in Raleigh and Greensboro currently sold at Backyard Leisure, including Bullfrog, Hawkeye, Vita, MAAX, California Cooperage, and Dream Maker Spas.
PERMA-SALT
Pool owners should not feel left out from the super clean water and low maintenance available to hot tub owners. The PERMA-SALT system uses a natural synergy by dispersing natural minerals into your pool, including silver and copper to naturally break down algae. Pool owners use way less salt because the salt is not converted into chlorine which means less corrosion. It is environmentally friendly as well as a hypoallergenic. Just like the CLEARRAY system, the water after Perma-salt purification is softer on skin, hair, and bathing suits.
Backyard Leisure is the Carolinas brand central offering the largest selection of high quality above ground pools, inground pools, and hot tubs as well as equipment to keep them easily maintained for years. For more information please visit http://spapoolbilliards.com or call 919-850-2200.