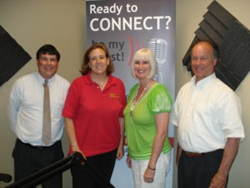 Atlanta, GA (PRWEB) June 25, 2013
On June 12, 2013, Kate Schermerhorn, host of Squawk Talk on Business RadioX®, was joined in the studio by Rodney Peters with Because We Care, Ana Marie Roesch with George & Schwartz Contracting and Gary Lewis with Carrington Mortgage Services to talk about their careers, businesses and how they serve their communities.
Rodney Peters is with Because We Care, a company that has been providing in-home private duty home care to the senior community since April 2004. Their services include personal and companion care. Because We Care meets the client's needs with the right caregiver so that the family's loved one can remain at home for as long as possible. According to Peters, "Our caregivers assist a family member with the activities of daily living such as bathing, dressing, transferring, feeding, grooming and toileting." They also prepare meals, provide light housekeeping, medication reminders and run errands.
Ana Marie Roesch is with George & Schwartz, an Atlanta-based contracting company that provides many services in demand by the commericial and property management industry as well as single family homes. Explained Roesch, "We have a Commercial Division that is highly skilled in the pressure cleaning of parking decks, garages and high rise office buildings and industrial buildings." Additionally they have a full service Residential Division that caters to apartment communities, condominium associations and subdivisions.
Carrington Mortgage Services is a full-service direct lender. According to Gary Lewis, "This means Carrington is not a broker but closes with their own money and sells the paper to Fannie or Freddie." Carrington is very strong with FHA and securitizes bulks on behalf of FHA. Lewis went on to say, "What is important to us is that Carrington has engineered the mortgage process and has the process fine-tuned to care for each loan individually."
To learn more about the guests and businesses featured, listen to the complete interview on Squawk Talk.
About Squawk Talk:
http://squawktalk.businessradiox.com/
Hosted by Kate Schermerhorn, Squawk Talk is an open forum for business professionals from all industries. The show airs Wednesdays at 1PM EST and is sponsored by Eagle Carpet Care & Restoration. Guests include leaders in the real estate industry, insurance services, home services, medical services, childhood education, and retail industry who share stories about growing and improving their communities through work and service.
About Business RadioX® :
Business RadioX® provides a turnkey solution for business owners who want to leverage the power of internet radio to meet their best prospects, establish credibility for their organization and heighten the placement of their brand in search engines rankings. With a professional venue and a proven formula, Business RadioX® helps hosts podcast their shows and create a regular stream of dynamic content to share with their prospects and feed the search engines every week. Programs are recorded and streamed live to the internet from our studios in the greater Atlanta area. For more information or to hear a live show, visit: http://www.businessradiox.com.