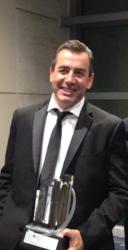 It's gratifying for me and all our associates to receive this recognition... and a strong validation that we're delighting our clients."
Philadelphia, PA (PRWEB) June 26, 2013
Ernst & Young recently announced Ian Kiernan, CEO of MRops as the winner of the highly coveted Entrepreneur of the Year Award for 2013 in the Services category. MRops was selected by a panel of independent judges and received the award at a Gala event at the Pennsylvania Convention Center in Philadelphia last week.
For more than 25 years, the Award program has recognized high-growth entrepreneurs who demonstrate excellence and extraordinary success in areas such as innovation, financial performance and personal commitment to their businesses and communities.
"We have created an amazing entrepreneurial culture here at MRops," according to Kiernan. "Our formula for success has been straight-forward but not always easy: hire the very best people, equip them with the knowledge and resources to do truly exceptional work, develop a passion for continuous innovation in all aspects of our business and put our customers at the center of everything we do. It's gratifying for me and all our associates to receive this recognition, and it serves as a strong validation that we're differentiating ourselves in the marketplace and delighting our clients."
About MRops:
MRops are the trusted experts in global end-to-end market research operations services. Founded in January 2007, the company now has approximately 200 employees across offices in North America, Asia and Europe. The growth and success of MRops is attributed to its uniquely positive company culture, the talented operations and project management professionals and the comprehensive portfolio of integrated market research services.