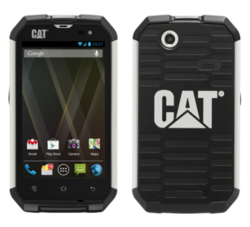 This smartphone can be dropped into a deep puddle and still work perfectly...
London (PRWEB UK) 26 June 2013
CAT B15, the toughest smart phone around, is available on contract to UK SMEs courtesy of XLN, the small business specialist.
Running on Android 4.1 (Jelly Bean), with its speedy dual-core 1GHz Qualcomm processor, the CAT B15 brings a robust and reliable handset to tough working environments and tough working people. Crucial for tradesmen in potentially hazardous environments but also for the busy small business owner whose mind is on their business, not necessarily their mobile phone. Padded out with shock-absorbent rubber and anodized aluminium, this smart-phone has a military spec IP67 rating which means it's waterproof, dustproof and can be dropped from 1.8M to concrete and still survive. Plus, it can also operate in temperatures ranging from 122F to -4F.
Joe Bell, Mobile Product Manager at XLN said, "Many of our customers are tradesmen and want the peace of mind that a durable and reliable handset like the CAT B15 brings, instead of worrying about their iPhone shattering. The smartphone can be dropped into a deep puddle and still work perfectly, as well as do everything the most advanced Android phone can do. XLN are proud to be among the first to offer this amazing handset with a contract to small business owners."
Starting at £24.99 a month including handset, 500 minutes, unlimited texts, 500Mb of Data and free calls to your XLN landline, the CAT B15 contract is worthy of both comic book superheroes and those in real life such as our small business owners.