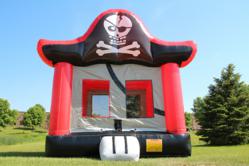 BounceHouseGalore.com has turned into a powerhouse selling 900 units a year equating to $875,000 in sales a year.
Milwaukee, WI (PRWEB) June 27, 2013
In 2007, Milwaukee-based James Fazio took a seminar on creating e-commerce websites. The seminar was a bust, but the concept was enough to pique Fazio's interest in online sales. He soon launched his first online store to sell air soft guns on eBay, but unfortunately low-profit margins didn't make it a worthwhile venture.
Discouraged, he turned to an old pal from Shorewood High School for advice. His friend suggested he try selling inflatable bounce houses. An auto mechanic by trade, he didn't know much about bounce houses. So, he ordered one online.
Soon a bounce house arrived in a big box from China with the manufacturer's contact information stamped on it. Fazio called the number on the box and ordered 70 units. As soon as they arrived, he started selling them immediately on eBay. The bounce houses sold out quickly, but Fazio wasn't happy with the quality of the product.
Fazio began researching Chinese manufacturers and booked a trip to China with his profits. With no international business experience, the learning curve was high for him. The auto mechanic found out fast that differences in culture and language were going to be huge obstacles to his success.
His first couple of trips were communication nightmares. Not only was it was difficult to contact the businesses, but several Chinese manufacturers had a "one and done" philosophy where they would short change the customer either on materials or quality.
Fazio kept at it, working hard to refine his product. Three trips to China in three years resulted in three different manufacturers. But with each trip to China, Fazio learned something new and the quality of his products steadily increased.
Through a stroke of luck, he was introduced to a friend-of-a-friend who was an exchange student in China. She became his representative in China to translate and check the quality of his product. With the communication barrier broken, he was able to find a manufacturer who was looking for a long-term relationship that was willing to work with him to improve the quality of his product.
Together, they have created a new PVC bounce house that offers more durability and longevity. Many bounce houses are made of nylon that can easily rip. BounceHouseGalore.com's lead-free, fire retardant bounce houses are reinforced with an additional layer of 18-oz. PVC at the high stress points of the front, side, and rear edges of the bounce house. In addition, entryways are reinforced with extra vinyl and straps and all seams are double or triple stitched in all areas for strength, durability, and longevity.
Fazio still sells bounce houses on eBay, but his website, BounceHouseGalore.com, has turned into a powerhouse selling 900 units a year equating to $875,000 in sales a year. He has opened warehouses in Franklin, Wisconsin and Waukegan, Illinois.
As a part of their PVC bounce house line, BounceHouseGalore.com announces the creation of a new Pirate Bounce House available on-sale this week.
James Fazio, owner of BounceHouseGalore.com and Fazio Automotive, is happy to discuss his experiences building an e-commerce business, working with Chinese manufacturers or BounceHouseGalore.com. To schedule an interview with Mr. Fazio, please contact him directly at 414-430-0048.