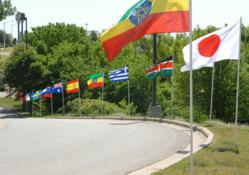 I had no idea Branson had all these acts from around the world. I loved it.
Branson, Missouri (PRWEB) June 25, 2013
Branson Ticket & Travel is happy to report another successful year for the annual See the World in Branson Music Fest which took place April 24 & 25, 2013 at the Welk Resort Branson.
Attendees had the opportunity to stroll through the marketplace tent and visit booths representing countries from around the world. They participated in games, prizes and autograph sessions while watching some of our celebrity chefs demonstrate their domestic skills on the "Savor the Flavors" stage sponsored by Golden Corral. This year our celebrity chefs included Clay Cooper, Doug Gabriel, Kevin & Jack Knudsen, Janet Lennon, The Hughes Brothers, Brydon and Garon Brett, Paul Harris & Barbara Fairchild. Guest could purchase "Savor the Flavors" aprons and cookbooks to gather celebrity autographs.
Click here for to request more information.
Some may remember that this event was conceived out of the Branson Fest concept which in the past was a kickoff to our spring season and also took place on the Welk property. These beginning stages of celebrating helped four of our community members, Tammy Slentz, Toyea Youngblood, Pat Veach and Sandy Lehman to develop the blueprint for the Music Fest event details, right down to the placement of that huge tent on the parking lot. This idea was then presented to the Branson Area Receptive Association (BARA) board and it was adopted by the association. BARA is proud to announce that all of the monies generated after expenses goes back into the BARA account to purchase marketing to bring groups to the area for the spring season. This allows everyone to benefit.
Music, music, music! Once again the highlight of this two-day festival was the Music Showcase at the Welk Theatre. Emceed by Clay Cooper and Paul Harris, over 20 different Branson shows took the stage providing the audience with non-stop back-to-back entertainment. Tony Orlando and Neal McCoy couldn't be in town but took the time to send a special message to the attendees by video and the Wednesday finale was a surprise to all when the world famous Oak Ridge Boys took the stage to close out the day.
Save the Date!
2014 Music Fest dates are Wednesday, April 23rd and Thursday, April 24th.
Branson Ticket & Travel is here to help with all planning needs for this event and for every visit to Branson.
1-800-432-4202