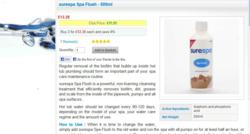 Hot tub chemicals for all needs
Alton, Hampshire (PRWEB UK) 26 June 2013
Splash Spas UK Ltd. has been developing hot tub chemicals and water treatment products tailored to suit specific hot tub users, and their requirements. This new range of hot tub chemicals is known as "SureSpa." They have been developed with hot tub owners on a budget in mind, and with the current economic climate they are expected to be top sellers. SureSpa is a range of products formulated to the exact needs of each hot tub user, and they will tackle all issues and considerations of hot tub water treatment. SureSpa is safely packaged and labelled with clear instructions and specifications.
SureSpa and other hot tub chemicals are available through Splash Spas online website, as well as available to trade customers via Splash Spas trade websites, splashspastrade. Please note there is also a dedicated SureSpa website to make purchases for both consumers and retailers alike. Please visit one of these websites for more details on the products.
The SureSpa chemicals are categorised depending on the issue they have been designed to tackle, providing a full range of solutions to water issues with hot tubs:

Keeping hot tub water clean and free from bacteria
Improvement of the water clarity, clean and clear!
Adjust the spa water pH by adjusting the acidity and alkalinity.
Cleaning chemicals for cleaning filters, surfaces and covers
Salt aromatherapy crystals designed to dissolve in the spa instantly.
This includes the SureSpaFlush for hot tubs , which is the top seller since SureSpa launch. This SureSpaFlush is a powerful 500ml biofilm remover from the premium range of the hot tub chemicals. This is available at the bargain price of only £13.28 for the 500ml bottle.
Andre Knight, one of Splash Spas directors, commented that the customer service team at Splash Spas have had many comments and requests from customers to provide a total range of hot tub chemicals under one roof, from one manufacturer. SureSpa achieves this, all at a budget price. "SureSpa will appeal to hot tub owners everywhere," Knight said. "It provides the most comprehensive range of hot tub chemicals at the best possible price."
About Splash Spas Ltd:
Splash Spas was the UK's first online hot tub chemicals and accessories company. Formed in 2004, the company operates out of premises near Alton, Hampshire and is an on-line retailer with over 20,000 customers throughout the UK and Europe. The company is a fully accredited by the renowned Trusted Shops, the European Trustmark for on-line retailers with buyer protection.