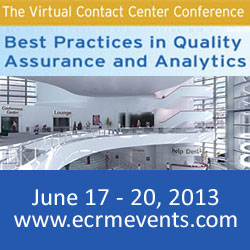 "I really liked how this conference had a lot of options that made it have a "real world" feeling." – Sarah Meade, Match.com
Montvale, NJ (PRWEB) June 27, 2013
More than 1,200 contact center managers and high level executives from around the world came together at the Contact Center Virtual Conference - Best Practices in Quality Assurance and Analytics.
The state-of-the-art virtual conference, held June 17th – 20th, brought together call center executives worldwide to exchange ideas with peers and to learn from the experts about the major challenges faced by customer care professionals.
Industry experts on analytics and quality monitoring issues brought unique insights, answered questions, and provided a wealth of ideas on topics such as calibration and scoring, gathering intelligence from interactions, and the role of speech analytics in the contact center.
Jones Loflin, President of Helping Others Prepare for Excellence, presented the Keynote: "Managing the Five Most Dangerous Distractions in the Workday", where he discussed powerful strategies to help contact center professionals to focus on the right task at the right moment whether it's coaching monitoring calls, or insuring that KPIs are met.
Vicki Herrell, Executive Director of the Quality Assurance and Training Connection (QATC), led a best practice roundtable which included sponsors Aspect, CallCopy, CallMiner, Genesys, NICE, Verint, and VPI. Key presentations focused on how to prepare your organization for speech analytics, big data, QA and analytics, and defining soft skills.
"The sessions are always so helpful and geared specifically to topics that are relevant to my world. There is always a good mix of topics, so I can pick and choose the ones that apply to me." – Joan Meegan, PCF Inc.
The conference exhibit hall offered information about leading products and solutions. Attendees were able to download whitepapers, articles, and watch demos. The exhibitors in the exhibition hall recorded thousands of document downloads.
"I really liked how this conference had a lot of options that made it have a "real world" feeling." – Sarah Meade, Match.com
The event, produced by CRMXchange and QATC, was fully interactive. Businesses could invite all customer-care professionals within an organization to participate—a benefit that would be unrealistic for an on-site conference. All sessions were recorded and available on demand for 14 days following the conference, giving those who were unable to attend the opportunity to view the missed sessions.
"All of the sessions that I attended were valuable. I was given ideas on how to use our current systems and incorporate them into QA. Since I am new to my position I had several Ah ha moments which were exciting. Thank you to all of the panelists. I am so glad I attended." -- Chelsey Larson, Teamwork Athletic Apparel
Up next—September 16th – 18th, the CRMXcellence Challenge Conference, produced by CRMXchange, QATC and SWPP. This virtual industry awards conference, broadcast to a worldwide audience, awards Gold, Silver and Bronze prize winners in each of nine categories, as well as provides a platform for them to share their stories in a series of live Best Practices webcasts.
http://www.eCRMevents.com and http://www.crmxcellenceawards.com are virtual conference platforms of CRMXchange, which has been a leading source of information and ideas for contact center managers and executives for more seventeen years.
Contact Sheri Greenhaus for more information email info(at)crmxchange(dot)com.