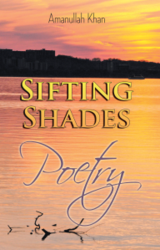 Dr. Amanullah Kahn offers profound insights to reveal life at its most elemental level.
DALLAS –
(PRWEB) June 25, 2013 -- Explore the spectrum of life's experiences through the eyes of a doctor and poet with this new volume of poetry that contains Sufi thought and contemporary verse, to Villanelle. Dr. Amanullah Khan offers profound insights to reveal life at its most elemental level, exploring the relationship between humanity and the environment, and showing nature in all its forms, from the emerging, delicate wings of a butterfly to the fate of a glacier.
In "Sifting Shades," Khan writes of joy and sorrow, describing their convergence in metaphysical and spiritual terms. His poem "To the Critic" explores the act of writing poetry and his delight in doing so: "Let me chase infinity. Let the ideas soar. Let me have the ecstasy. Let my pen explore." A bicycle left behind becomes a metaphor for the cycle of life in "Cycle." As Khan writes, "Wheels frozen, tires deflated, worn in the dash to nowhere. Dents on the aging frame evidenced knocks of life, flakes of decay falling off from the languished metal." The gently amusing entry "Longevity" ponders the irony of a bushel of plums, eaten gradually. "The last remaining was so wrinkled, what a change with time. Longevity is a cruel bargain. Plum is bartered for a prune."
Dr. Amanullah Khan, an oncologist and hematologist practicing with Cancer Center Associates, belongs to numerous medical associations. He received his medical degree from King Edward Medical College and PhD from Baylor University, Texas. He has dedicated this book to his three daughters. He began learning English when he was 3, taught by his father. His mother sang Punjabi poetry to him when he was a small boy.
For additional information, please visit http://www.siftingshades.net.
Sifting Shades
Amanullah Khan
Dog Ear Publishing
ISBN: 978-1-4575-1945-1
90 pages $9.99 US
Available at Ingram, Amazon.com, Barnes & Noble and fine bookstores everywhere.
About Dog Ear Publishing, LLC
Dog Ear Publishing offers completely customized self-publishing services for independent authors. We provide cost-effective, fast, and highly profitable services to publish and distribute independently published books. Our book publishing and distribution services reach worldwide. Dog Ear authors retain all rights and complete creative control throughout the entire self-publishing process. Self-publishing services are available globally at http://www.dogearpublishing.net and from our offices in Indianapolis.
Dog Ear Publishing – self-publishing that actually makes sense.