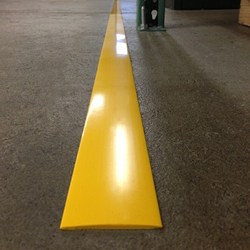 "We have used paint and other brands of floor tape in the past and nothing compares to the durability of SafetyTac Armor. "
Lake Oswego, OR (PRWEB) June 27, 2013
Some of the largest manufacturing plants in the world, including those of major car manufacturers, have tested SafetyTac Armor and agree there is no other tape or paint that has lasted and survived the test with no visible damage. SafetyTac Armor is rated as number one when it comes to floor marking tape for all traffic situations including high forklift and truck traffic. SafetyTac.com is now offering SafetyTac Armor for facilities that are serious about using a product that will last a long time.
SafetyTac Armor is available in four bright colors of yellow, blue, green, and red and comes in either 2 inch or 4 inch wide sections of 40 feet long. Application is a snap with the simple and easy peel-&-stick installation that requires no applicator for install. This tape takes durability to the highest level, being constructed from an ultra-rigid 104-mil heavy duty composite material that is rigid and both shatter and break resistant. The strong rubber based adhesive will stay put until it is time to remove it. Its low profile and double-tapered edge allows for carts and items to slide easily over lines. Painting lines is the old way of marking floors. SafetyTac tape requires no dry time, cure time, fumes, or other things that can cause downtime and limit productivity.
Because of SafetyTac Armor's rigid construction, extra-tough adhesive and low profile design, it makes perfect sense to use this type of marking tape for extreme environments, such as those with heavy forklift and equipment traffic. Because is it dense and more rigid than all other floor marking solutions, it is able to handle rough situations like forklift tire pivoting and hard impacts without any damage.
A plant manager of a large manufacturing plant commented, "We have used paint and other brands of floor tape in the past and nothing compares to the durability of SafetyTac Armor."
For more information about SafetyTac Armor marking tape, please visit SafetyTac or call toll-free (888)246-6770 to speak with a professional representative.