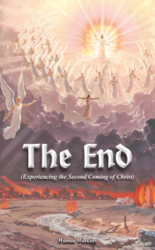 (The author) describes Resurrection Day as awakening to a powerful energy, great light and heightened awareness that flood her whole being with tremendous strength.
Manvel, Texas (PRWEB) June 26, 2013
Since the Resurrection of Christ, Christians have been waiting for His return. This new book provides an inspirational look at the second coming of the Savior based on the Holy Bible. Wanda Watkins' visionary account includes the challenges and trials she herself has faced in her life and reflective thoughts as to how those trials pale in comparison to her ascension into Heaven.
"The End (Experiencing the Second Coming of Christ)" offers information Watkins has gleaned in her thorough study of the Bible, Christ's second coming, and the obedience that God requires. Watkins wrote the book to dispel misunderstandings about the second coming and to motivate true worshipers of God to persevere and remain faithful unto death, and to remind them of the "prize of Heaven."
Watkins describes Resurrection Day as awakening to a powerfully splendid energy, ineffable light, and heightened awareness that flood her new, immortal body with superb strength. As she begins to ascend, she looks up to behold Jesus Christ coming in the clouds, standing in mid-air, and shrouded in fire; He is accompanied by His host of angels. She lovingly details this awe-inspiring experience and intersperses it with supportive Bible verses that reaffirm Christ's second coming for His Bride. This Scripture-filled book includes study questions that are designed to extend the reader's biblical knowledge, while continuing to inspire faith and obedience to God.
Author Wanda Watkins has degrees from Stephen F. Austin State University, Texas A&M Commerce and the University of Texas Arlington. The retired educator is a dedicated member of the Church of Christ.
----------
For additional information, please visit http://www.wandawatkinstheend.com.
The End (Experiencing the Second Coming of Christ)
Wanda Watkins
Dog Ear Publishing
ISBN: 978-1-4575-1781-5 108 pages $12.50 US
Available at Ingram, Amazon.com, Barnes & Noble and fine bookstores everywhere.
About Dog Ear Publishing, LLC
Dog Ear Publishing offers completely customized self-publishing services for independent authors. We provide cost-effective, fast, and highly profitable services to publish and distribute independently published books. Our book publishing and distribution services reach worldwide. Dog Ear authors retain all rights and complete creative control throughout the entire self-publishing process. Self-publishing services are available globally at http://www.dogearpublishing.net and from our offices in Indianapolis.
Dog Ear Publishing – self-publishing that actually makes sense.