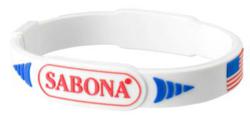 Sikeston, MO (PRWEB) June 26, 2013
With each sale of the Pro-Magnetic Sport Patriotic wristband, Sabona of London will contribute to the Wounded Warrior Project. Through direct programs and services to meet the needs of injured service members, the Wounded Warrior Project serves a new generation of our nation's heroes. Please visit http://www.woundedwarriorproject.org/ to learn more.
Sabona Pro-Magnetic Sport wristbands feature a combination of magnets and minus ion producing material. The silicone wristband has a total of four 1200 gauss samarium cobalt magnets, each positioned bio north facing the skin. Wristbands also contain a titanium material which produces minus or negative ions. Sabona chooses Samarium Cobalt magnets for long term durability and rust resistant qualities.
Sabona Pro-Magnetic Sport Wristbands will stretch but snap back to the original size. You can wear them snug or loose, so choose your size accordingly. Sizes are S/M (7.0"), Large (7.5"), and XL (8.0").
"Like" Sabona of London on Facebook for special offers and the latest promotions (continental US only).
About Sabona of London Unlimited, Inc.:
Sabona of London, Inc., established in 1959, has a long history as the premier manufacturer and marketer of copper and magnetic jewelry worldwide. The expanded Sabona product line includes Copper Magnetic Bracelets and Stainless Steel Magnetic Bracelets as well as Pro Magnetic Sport silicone wristbands and Sabona Athletic Bracelets, a line of fabric magnetic bracelets. In addition to magnetic bracelets, Sabona offers Copper Thread Supports, a line of supports for the knee, ankle, elbow, etc. that feature 5% copper thread in the fabric.
Visit http://www.sabona.com for further information.