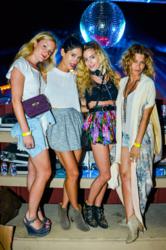 Equal parts outdoor concert and beach bonfire, Ben Watts' annual festivities will be at Montauk Yacht Club this year.
Montauk, NY (PRWEB) June 26, 2013
Photographer Ben Watts has hosted the patriotic, Shark Attack Sounds, can't-miss party of the summer, for over a decade now. The Shark Attack Sounds party draws a crowd of over 3,000 revelers. Co-hosts Jeffrey Jah and Mazdack Rassi and sponsors AEG, Milk, Sennheiser, Dicks Cottons, promise there are many surprises in store. The first, a new venue. To house the stylish turn-out — Liev Schreiber, Keren Craig, Rogan Gregory, Johan Lindeberg, Waris Ahluwalia, Ric Pipino and Jenne Lombardo are all former guests — this year, Shark Attack has upgraded to a larger venue, the Montauk Yacht Club Resort & Marina.
Situated on 32 acres of scenic waterfront property at the East End of Long Island, the Montauk Yacht Club was selected for its prime location and generous size. The resort will also provide food and beverage for the event. Partygoers have the option of reserving accommodations or boat slips, at Montauk Yacht Club, for the event.
This year's event will include DJ sets by Chelsea Leyland, Zen Freeman, Carl Kennedy, and notable guests will include Naomi Watts, Alessandra Ambrosia, Dree Hemingway, and others. Sponsors AEG, Milk Studios, Sennheiser and Dicks Cottons promise to take 2013 Shark Attacks Sounds to a new level.
What: The 11th Annual Shark Attack Sounds party hosted by Ben Watts, Jeffrey Jah, and Mazdack Rassi in celebration of Independence Day. DJ lineup for the evening is DJ Zen Freeman, Chelsea Leyland, and Carl Kennedy. Partygoers 18 years old and up are invited to attend.
When: Friday, July 5th, 2013; doors open at 6 p.m.
Where: Montauk Yacht Club Resort & Marina 32 Star Island Road, Montauk, NY 11954
How Much: Tickets for 2013 Shark Attack Sounds at Montauk Yacht Club are $46, available at http://sharkattacksounds.frontgatetickets.com/.
Hotel: Reservations for lodging or boat slip rental at Montauk Yacht Club Resort & Spa can be made at http://www.montaukyachtclub.com or by calling 888-MYC-8668.