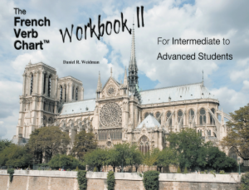 Writing and practicing the verb tenses in the chart – effectively creating their own textbook – allows students to become more familiar with verbs forms and helps students learn more quickly.
DENVER (PRWEB) June 26, 2013
The next step in the The French Verb Chart series, Workbook II introduces and focuses on specific common irregular verbs encountered in intermediate to advanced studies.
In "The French Verb Chart: Workbook II," author Daniel R.Weidman builds on the work he began with his first workbook offering a visual tool that shows students the big picture of conjugating French verbs – all 14 tenses plus the imperative with English equivalents, representative verbs fully conjugated and charts of 74 common irregular intermediate to advanced level verbs. As designed by author Daniel R. Weidman and used in his classrooms over the decades, students use one French verb chart per verb (infinitive) and each contains a place to record the French infinitive with its English meaning, the conjugated verb forms for each personal pronoun, and the English meanings for that particular tense. The logic of The French Verb Chart learning system is the unique up-down, top box-bottom box pairing methodology that helps students visualize and picture the conjugations thereby enabling students to commit to memory and to recall conjugations more quickly.
To master the art of conjugating French verbs without becoming overwhelmed, confused and discouraged, it is absolutely essential to have a system. That system is The French Verb Chart.
This highly effective educational tool can be incorporated into an independent study program or blended with a teacher-led curriculum. As a bonus feature, Workbook II also contains 25 blank verb charts that teachers and students can use for quizzes, tests, homework or general practice.
Unlike all other French verb books on the market, The French Verb Chart learning system gives students "a sense of ownership and accomplishment!"
----------
For additional information, please visit http://www.frenchverbchart.com.
The French Verb Chart: Workbook II
Daniel Weidman
Dog Ear Publishing
ISBN: 978-1-4575-1694-8 248 pages $25.95 US
Available at Ingram, Amazon.com, Barnes & Noble and fine bookstores everywhere.
About Dog Ear Publishing, LLC
Dog Ear Publishing offers completely customized self-publishing services for independent authors. We provide cost-effective, fast, and highly profitable services to publish and distribute independently published books. Our book publishing and distribution services reach worldwide. Dog Ear authors retain all rights and complete creative control throughout the entire self-publishing process. Self-publishing services are available globally at http://www.dogearpublishing.net and from our offices in Indianapolis.
Dog Ear Publishing – self-publishing that actually makes sense.