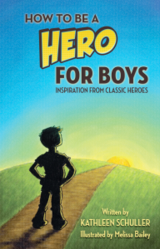 (The author) examines the stories and draws out heroic qualities of the characters.
Sylvania, Ohio (PRWEB) June 26, 2013
Classic literary heroes are waiting to inspire a new generation of young readers. In her latest book, author Kathleen Schuller highlights some of her favorite books featuring male heroes. Classics such as "Treasure Island" by Robert Louis Stevenson, "Little Men" by Louisa May Alcott and "Pride and Prejudice" by Jane Austen provide plenty of examples of heroes to inspire boys.
"How to be a Hero for Boys: Inspiration from Classic Heroes" describes what qualities a hero has, such as physical and moral courage, integrity, compassion, willingness to grow and learn, and the capacity to love. Schuller examines the stories and draws out heroic qualities of the characters. For instance, Dickon, a young boy in "The Secret Garden" by Frances Hodgson Burnett, befriends two unhappy children, the orphaned Mary Lennox and her invalid cousin, Colin. The trio spends hours bringing a neglected garden to life – and bringing themselves back to life -- thanks to Dickon's compassion and joy willingly shared. Schuller urges boys to do something kind for one of their friends, just like literary hero Dickon would do.
Humorist Mark Twain has two heroes in the book: Prince Edward in "The Prince and the Pauper" and Tom Sawyer in "The Adventures of Tom Sawyer." Prince Edward changes places with a poor boy, Tom Canty, as a prank but soon becomes entangled in a case of mistaken identity, eventually ending up on the street. His courage in overcoming obstacles and keeping his integrity provides a shining example of how others can do the right thing if they persevere. Schuller asks boys to show the same integrity and keep promises they make, behaving like a prince just as Edward did. Spirited Tom Sawyer, on the other hand, has one adventure after another but must follow his conscience to make the right decisions, even if it's not easy. Tom shows that someone far from perfect can still do the right thing, even if it takes courage.
Melissa Bailey drew the illustrations that grace each chapter of the book, which includes a listing of additional novels and stories by the featured authors. In the end, the author's message is clear: Living as a hero by doing one's best and helping others along the way brings unexpected rewards. "Adventures are fun and superheroes are exciting," Schuller writes, "but every boy must make his own life a great adventure. And there is no greater adventure than learning to be the best person you can be."
Author Kathleen Schuller has a master's degree in English literature. This lifelong book lover belongs to the Jane Austen Society of North America. Schuller, a wife and grandmother, sews, bakes and enjoys armchair gardening, as well as reading and writing when not working as an office manager. Her first book, "How to be a Heroine for Girls: Inspiration from Classic Heroines" featured Schuller's favorite female literary characters.
----------
For additional information, please visit http://www.heroandheroinebooks.com.
How to be a Hero for Boys: Inspiration from Classic Heroes
Kathleen Schuller
Dog Ear Publishing
ISBN: 978-1-4575-2023-5
72 pages
$9.95 US
Available at Ingram, Amazon.com, Barnes & Noble and fine bookstores everywhere.
About Dog Ear Publishing, LLC
Dog Ear Publishing offers completely customized self-publishing services for independent authors. We provide cost-effective, fast, and highly profitable services to publish and distribute independently published books. Our book publishing and distribution services reach worldwide. Dog Ear authors retain all rights and complete creative control throughout the entire self-publishing process. Self-publishing services are available globally at http://www.dogearpublishing.net and from our offices in Indianapolis.
Dog Ear Publishing – self-publishing that actually makes sense.