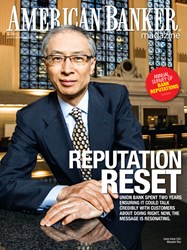 Earning and protecting our reputation is built into our business - our plans, our behavior, our metrics
New York, NY (PRWEB) June 25, 2013
Banking and diversified financial services companies have repaired some brand damage wreaked by the financial crisis but the industry at large continues to lag all other major U.S. business sectors in terms of reputation, as shown by the 4th Annual Survey of Bank Reputations conducted by American Banker and Reputation Institute.
This year's survey showed an industry continuing to struggle with the fallout of a damaging financial and regulatory crisis. It also exposed a sharp divide in perceptions. Nearly half of the 30 major banks that were assessed proved to have a strong reputation with their own customers. At the same time, respondents demonstrated deep mistrust of banks other than the ones with which they do business. The results and related analysis are available today at AmericanBanker.com/bank-reputations and in the July issue of American Banker Magazine.
Charles Schwab had the top overall reputation score from noncustomers, followed closely by Columbus, Ohio-based Huntington Bank, which won industry accolades for consumer-friendly policies such as 24-hour grace periods on account overdrafts. But even their ratings, from noncustomers at least, was shy of what Reputation Institute considers to reflect a strong reputational position.
"These scores with non-customers don't present much opportunity in the near term," said Anthony Johndrow, managing partner at Reputation Institute. He adds that even among their own customers, banks "have a long way to go to shore up customer relationships before they can expect any favors from them."
Among banks with brick-and-mortar branch networks, Union Bank scored highest overall among its own customers. "Earning and protecting our reputation is built into our business - our plans, our behavior, our metrics," said Masashi Oka, CEO of Union Bank, in an in-depth interview with American Banker Magazine.
Nontraditional, investment-oriented banks such as E*TRADE and Charles Schwab, and institutions focused primarily on online channels such as Ally Bank, averaged higher scores among customers and non-customers in comparison to traditional big banks with large branch networks.
"The good news for the sector is that we see more banks putting an emphasis on reputation management, and more banks viewing reputation management as a responsibility not just of the marketing department but also of risk managers and business line heads, and of the frontline employees who are interacting with customers directly," said Heather Landy, editor in chief of American Banker Magazine, who oversaw the project.
The annual survey of Bank Reputations measures U.S. consumers' perceptions of 30 major bank brands. Now in its fourth year, this study provides a detailed analysis of the components that together formulate corporate reputations, and how different banks rate on those measures. Scores are based on the results of an online questionnaire that was fielded in the first quarter of 2013. The complete rankings of bank reputation scores and full coverage is featured in the July issue of American Banker Magazine and online at AmericanBanker.com/bank-reputations.
About American Banker and American Banker Magazine
American Banker is the banking industry's most powerful resource for news, analysis, opinion and perspective about financial institutions, regulation, risk management, bank technology and market trends. American Banker Magazine is a monthly publication of American Banker, focusing on the ideas the people, and the companies that are changing the way bankers do business.
About SourceMedia
SourceMedia, an Investcorp company, is a business-to-business media company serving the financial industry and the related fields of professional services and technology. SourceMedia offers its clients and subscribers professional information services – both print and digital – industry-standard data applications, in-depth seminars and conferences, research, and specialized marketing services. http://www.sourcemedia.com
About Reputation Institute
Reputation Institute is the world's leading reputation-based advisory firm, founded by Dr. Charles Fombrun and Dr. Cees van Riel in 1997. We enable many of the world's leading companies to make more confident business decisions that build and protect reputation capital and drive competitive advantage. Our most prominent management tool is the RepTrak® model for analyzing the reputations of companies and institutions – best known via the Forbes-published Global RepTrak® 100, the world's largest study of corporate reputations. Businesses and executives regularly discover best practices in reputation management by affiliating with our Knowledge Center and participating in its learning programs and networking events. Reputation Institute has offices and associates in 30 countries around the world.