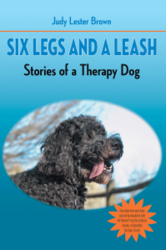 This heartwarming book tells the tale of one woman's determination to help others with her canine partner.
Greenfield, Ind. (PRWEB) June 26, 2013
When Judy Lester Brown first saw the giant schnoodle, it was love at first sight. Reggie, who proves to be funny, intelligent, exuberant – and stubborn – and Judy soon begin an intense two-year training session to become certified as a team for animal assisted activities and animal assisted therapy. This new book chronicles their story, describing their work visiting hospital patients, nursing home residents and people with special needs. Reggie and Judy even learn to communicate Bible truths to children, illustrating messages with Reggie at the center, at Greenfield Christian Church – where Judy first began to consider pet therapy as a ministry.
"Six Legs and a Leash: Stories of a Therapy Dog" shows the tremendous dedication Judy brings to working with Reggie, who eventually passed testing and became registered by Pet Partners. In the first section, she details how they manage to coax nursing home patients to stroke Reggie's fur or throw a ball for him, leading to smiles and anticipation for his next visit. Each vignette shows how much the patients, families and caregivers appreciate the friendly dog's work. The book's second section highlights a series of children's sermons and lessons Judy presents with Reggie's help. Topics include the importance of being kind to one another, saying thank you, choosing a good attitude and what it means to follow Jesus.
The books' third section features stories of other people and their work with therapy dogs: a college freshman with cerebral palsy whose dog helps him be more independent; Judy's mentor and trainer Jamie Young, a veterinary pathologist who breeds and trains assistance dogs, including Reggie; and an amputee and cancer survivor who adopts a loving stray dog. This heartwarming book tells the tale of one woman's determination to help others with her canine partner. Judy's commitment to following God's dictate to love one another is clear; she will donate $1 from the sale of each book to both Pet Partners and the children's ministry of Greenfield Christian Church.
This is the first book for author Judy Lester Brown, who majored in journalism at the University of Kentucky. Brown, who worked as a feature writer for two daily newspapers and as vice president of marketing for Greenfield Banking Company, has published articles in several magazines as a freelance writer.
----------
For additional information, please visit http://www.jbrowntherapydogbook.com and http://www.therapydogministry.org
Judy Lester Brown
Six Legs and a Leash: Stories of a Therapy Dog
Dog Ear Publishing
ISBN: 978-1-4575-1823-2 116 pages $13.95 US
Available at Ingram, Amazon.com, Barnes & Noble and fine bookstores everywhere.
About Dog Ear Publishing, LLC
Dog Ear Publishing offers completely customized self-publishing services for independent authors. We provide cost-effective, fast, and highly profitable services to publish and distribute independently published books. Our book publishing and distribution services reach worldwide. Dog Ear authors retain all rights and complete creative control throughout the entire self-publishing process. Self-publishing services are available globally at http://www.dogearpublishing.net and from our offices in Indianapolis.
Dog Ear Publishing – self-publishing that actually makes sense.