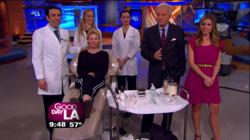 Los Angeles, CA (PRWEB) June 25, 2013
According to an article titled "Erase Your Skin Spots" in the July 2013 issue of Redbook Magazine, sun exposure may cause skin cells, especially women with fair skin tone, to overproduce pigment, resulting in age spots or sun spots. For darker skinned or pregnant women, or women on birth control pills sun exposure may lead to blue-gray or brown patches called melasma. Fortunately there are ways for women to prevent and treat these conditions. (go to goo.gl/a8Acr).
"The Redbook article gives a very basic overview of some of the damage caused by sun exposure," says Dr. Simon Ourian, Medical Director of Epione Beverly Hills. "As I've told my patients for years, the key to dealing with sun damage is to prevent it in the first place by staying out of the sun whenever possible, covering up when in the sun, and daily sunscreen use."
According to the article, sunscreen is crucial, especially during the summer months. This is doubly true for melasma as the recurrence rate is high. Aside from sunscreen, a big brimmed hat and oversized sunglasses are recommended for protection. A serum or cream containing retinol is recommended to clear up already present age and sun spots. Alternately, products with Vitamin C or alpha hydroxyl acids may be used if one is sensitive to retinol. Finally, hydroquinone can be prescribed by a physician to help clear up melasma. For those concerned about a potential link between hydroquinone and cancer, products with kojic or glycolic acid may be substituted.
"I suggest that anyone with sun damage such as wrinkles or age spots see an experienced cosmetic dermatologist who can provide a customized treatment plan," says Dr. Ourian.
Dr. Ourian has been a pioneer in laser technology and non-invasive aesthetic procedures including Restylane, Juvéderm, Radiesse and Sculptra. These treatments are used for the correction or reversal of a variety of conditions such as acne, acne scars, skin discoloration, wrinkles, stretch marks, varicose veins, cellulite, and others. More information about skin care can be found on Epione's website.