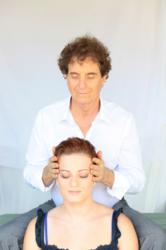 The takeaway on QTII is that we truly don't know the limits of what is possible. It's an area of tremendous potential discovery, and I welcome everybody to join us in the discovery process
Santa Monica, CA (PRWEB) June 25, 2013
Each month, Richard Gordon, founder of Quantum-Touch, Inc., takes time to answer questions posed by members of the Quantum-Touch community during a one-hour group telecast. During the June telecast, a large number of callers asked about Quantum-Touch's effects on specific diagnoses.
Rather than address each specific illness, Gordon spoke in generalities about how his healing techniques can address physical and emotional ailments.
"Doctors say there's a specific remedy for every condition," Gordon said. "I would say if you're looking at it from an energetic point of view, the love is going to work for you across the board."
People have reported Quantum-Touch has helped people reset broken legs, decrease lower back pain, lower anxiety, lessen the pain from arthritis, calm fussy babies, align the spine and any number of other conditions.
During the call, Gordon said a combination of the energy healing and the emotional healing techniques he has created might be needed to see results depending on the condition.
For example, a Quantum-Touch practitioner reported seeing positive results in a chronically depressed woman using a combination of Quantum-Touch and Self-Created Health.
Where Quantum-Touch uses the life-force energy to promote optimal wellness in others, Self-Created Health seeks to discover the emotional causes that lie at the root of physical ailments.
Gordon has also developed a third approach that draws on the success of Quantum-Touch. Quantum-Touch II – or QTII – teaches practitioners simple and effective techniques to accelerate healing for themselves and others.
"I've been hearing about our wonderful practitioners working with QTII and learning things I hadn't anticipated," Gordon said. "They reported Quantum-Touch working to help an autistic child, a bipolar man, addictions like tobacco and helped people confined in a nursing home feel happiness again."
"The takeaway on QTII is that we truly don't know the limits of what is possible. It's an area of tremendous potential discovery, and I welcome everybody to join us in the discovery process," he said.
Gordon referred those with questions about specific illness to the Quantum-Touch message board. In the years it's been active, more than 100,000 messages have been posted, many about how Quantum-Touch has been used for specific conditions. The Quantum-Touch blog is another source of information about specific illnesses. Two blogs are posted each week, including many that address particular maladies.
A recording of the call is posted to the Quantum-Touch blog, so anyone can conveniently listen to Gordon's answers and guidance.
Learn more about healing and reducing pain using Gordon's principals in his second book "Quantum-Touch 2.0: The New Human." The book provides simple and effective techniques to expand on what it means to be a human being. Gordon's first book, "Quantum-Touch: The Power to Heal," is also available on Amazon in paperback and Kindle editions.
ABOUT QUANTUM-TOUCH, INC.
Quantum-Touch, Inc. provides a method of natural healing that works with the "Life Force Energy" of the body to promote optimal wellness. Life Force Energy, also known as "chi" in Chinese and "prana" in Sanskrit, is the flow of energy that sustains all living beings. Quantum-touch teaches simple and effective ways of using energy medicine to reduce pain, realign structure, balance organs, glands and systems, heal injuries and so much more.
For more information, please visit http://www.quantumtouch.com.