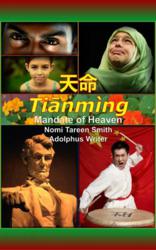 Oh… and don't ever forget to read the fine print before you sign up.
Syracuse, NY (PRWEB) June 27, 2013
Tiānmìng – Mandate of Heaven is a reluctant journalist's tale of geopolitical conflict and geologic catastrophe that upends the worldwide status quo.
The major themes of the book are constantly in the news: economic calamity, geopolitical power shifts, and the potential consequences of a surveillance state. The book reflects a yearning for leaders who would lay down their lives to preserve our dearly won liberty.
The main character, Michael Babbage, signs up for a role as journalist for a mysterious news agency. He learns the hard way that you always have to read the fine print. Buck Jefferies, an ex-special forces operative and his recruiter, helps him along the way. Michael experiences the truth behind Buck's dictum: "Eventually, you have to lay them down and let go of them. You can't bring them back no matter how hard you try."
The US is on the brink. Economic, political, and geologic catastrophes push it over. Failing governments take advantage of the fact that the world's policeman is down for the count. Nuclear skirmishes result in a reshaped western and southern Asia. Will any nations step up to take responsibility and right these wrongs? In what could be another nuclear showdown, an unlikely hero saves the former USS John F. Kennedy.
Why is all this happening? It's Tiānmìng, the Mandate of Heaven. George Washington warned us about it long ago.
About the authors
Nomi was born in Balochistan, Pakistan, to Misri and Vijay Tareen. Her grandparents: Ramsha and Ibrahim Tareen raised her after Misri's untimely death in childbirth and Air Marshal Tareen's unjust execution for treason at the hands of his countrymen. Nomi was spirited out of her homeland to the USA by her grandparents with the able assist of Captain Davi Tareen, Vijay's brother.
Adolphus travelled to Europe, the Middle East, and Far East after college. Arriving back in the USA, he took a job in a large defense firm applying his creative and analytical skills to pressing problems. In early 2012, he established Mandated Memoranda Publishing, LLC, as a way to support the lifestyle to which he had become accustomed. He says he likes to eat on a daily basis and stay debt–free.
About the publisher
Mandated Memoranda Publishing, LLC plans to release a second Kindle Edition, Tragic Wonders, an anthology of stories and essays delving into our souls' deepest fears and needs. Expect it on shelves by the fall. Book three is: Who Shall Be God, a fictional account of the struggles between two families, the Stadists and the Libertas, who live in a Midwestern city, north and south of 38th street, respectively.
Tiānmìng – Mandate of Heaven
By Nomi T. Smith and Adolphus Writer
1st edition, released June 8, 2013
By Mandated Memoranda Publishing, LLC
Exclusively as an Amazon Kindle Edition
ASIN: B00D9XB9ZA
Simultaneous Device Usage: Unlimited
217 pages (estimated)