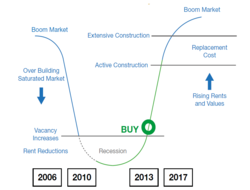 The Los Angeles commercial real estate market has picked up a great deal, with significant year-over-year gains.
Beverly Hills, California (PRWEB) June 27, 2013
SRE Investing, a dynamic force in Southern California real estate, has today underscored the importance of getting into commercial real estate investing. Investors are urged to take action now, as the Los Angeles commercial real estate industry is picking up quickly, and significant gains can be lost by hesitation.
Jay Belson, CEO of SRE Investing, says, "The Los Angeles commercial real estate market has picked up a great deal, with significant year-over-year gains. For investors considering getting into the commercial real estate market, the time is now while historically low interest rates are still in effect."
For investors on the cusp of making this beneficial decision, SRE Investing highlights four reasons that investing now is a wise decision.
1. Real estate investments offer lower tax liabilities than other investment options.
Interest and depreciation write-offs ensure that the effective tax rate on these investments is lower than in other areas. Prices remain low now, but they're turning around quickly.
2. Unlike stocks and bonds, real estate is a physical, tangible asset.
Tangible assets are to be treasured – you can't touch your share in a company, but you can touch this physical asset.
3. Unlike many other markets, real estate investing is transparent.
The transparency of real estate investing makes it one of the simplest, yet most rewarding options for investors seeking a good return with little hassle.
4. The returns to be had in commercial real estate investing are significantly greater than those available in alternative investments, up to 15% internal return rate over the term.
Los Angeles' commercial real estate market is prime for investing. Interest rates are low, as are property prices. However, the recovery is well underway, and those rates will not remain for long. Seth Phillips added "Los Angeles Multi-Family real estate investment properties have shown a price increase of 11.9% over the last 12 months." SRE Investing urges would-be investors to make their decision soon.
To find out more about SRE Investing, visit http://www.SREinvesting.com.
About SRE Investing: Headquartered in Beverly Hills, SRE Investing specializes in Los Angeles real estate investing. Clients are able to participate as owners, lenders or partners in investments.