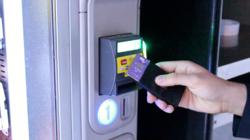 That's the great thing about Kickstarter, backers and creators are able to collaborate and create better products together.
San Francisco, CA (PRWEB) June 26, 2013
Dash Wallets announced the release of Dash 2.0, a minimal leather wallet with patented Quickdraw functionality. The world's first Quickdraw wallet, Dash, was wildly popular due to its slim design and the ability to use a credit card without it having to leave the wallet. But, as with any first of its kind products, there's always room for improvement.
"We received a lot of feedback and advice from our backers on how to make the original Dash Wallet better. Taking every single backer's feedback into consideration, I was inspired to create Dash 2.0," says founder Steven Elliot. "That's the great thing about Kickstarter, backers and creators are able to collaborate and create better products together."
Key features of Dash 2.0 include the following:

Durable leather front Quickdraw slot, available in black or brown
The back is made from recycled elastic fibers
Use favorite credit cards without removing them from the wallet, reducing risk of theft or loss
Available in horizontal and vertical orientation, great for swiping cards or tapping on RFID sensors
Fits in any pocket or purse – wherever it's safest
Carry only the things you need and access them easily
Two compartments for cards; a Quickdraw slot for the most frequently used card and a second compartment for carrying the rest of your cards and IDs
Third compartment is located on the bottom to carry cash
Always shrinks back to its original size so cards won't fall out
The slim design guarantees clothes will fit better than when carrying a bulky wallet
It provides convenience as well as comfort
"The first Dash wallet has been the best wallet I have ever owned and is exactly what I was looking for. So many people have noticed it and have asked where they can get one," says Anton Grobman, Dash Wallet and Dash 2.0 backer. "Can't wait to see what you have done with all the ideas in your second Dash."
To learn more about Elliot's Dash 2.0 wallet ($16) or to place an order, visit http://kck.st/1bLSewS on or before July 7, 2013 when the project's crowdfunding campaign ends and Elliot moves toward production of the wallets. You may also find Dash Wallets on Facebook in order to stay up to date with the campaign.
About Dash Wallets
Steven Elliot stumbled upon the idea for Dash wallet when his dog ate his old one. Elliot adopted a streamlined approach in designing the wallet, providing the basic features of a money clip with a card sleeve in an attractive and sleek package. Its minimal size and design makes it possible to carry your essential items: important cards, ID and cash. This relieves you of the burden of carrying around a lot of things that you don't need.
About Stellar Impeller
Stellar Impeller is a public relations, branding and web design agency built on disruptive innovation. Located in hip East Austin, the company is consistently inspired by the ever-changing art and progressive culture that surrounds them. Stellar Impeller has worked with a wide variety of startups, law firms, artists, professional organizations, yoga studios and many more to establish each brand's image, grow online visibility and generate awareness among their target audiences.
For more information on Stellar Impeller's services, visit http://www.StellarImpeller.com or follow them on Twitter @stellarimpeller.