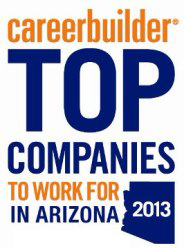 We're passionate about the possibility of world wellness and the reduction of suffering.
Scottsdale, Ariz. (PRWEB) June 26, 2013
CareerBuilder and Republic Media (The Arizona Republic, azcentral.com, La Voz) announced Natural Partners, a vitamin and supplement supplier, has been named to CareerBuilder's Top Companies to Work For in Arizona list because of its strong company culture and unique benefit offerings for employees.
Natural Partners' culture is generated by 10 core values, which are the filter through which all company decisions are made. In addition, employees get free breakfasts, Friday Family lunches, discounts on Natural Partners products, themed dress-up days, tickets to music shows, trips to Zappos.com's Las Vegas Headquarters for culture days, and a Wellness Cafe with satellite TV, Internet and foosball. Natural Partners also shuts down for one business day a year for all of its employees to come together and celebrate the company culture.
"Creating an environment where we love to come to work, experience that we all make a difference in the world, and can still be a little 'rock 'n roll' are priorities," said Tye Smith, CEO of Natural Partners. "We're passionate about the possibility of world wellness and the reduction of suffering. This passion encompasses all of our employees and our clients so that everyone feels the love."
Companies were evaluated and selected based on a combination of overall satisfaction scores from an employee engagement survey and an employer questionnaire covering topics related to HR programs, benefits and workplace culture.
Companies named to the list were announced at a breakfast reception June 20. The full list of winners was also featured in a special insert in the June 23 edition of The Arizona Republic, as well as online at http://www.topcompaniesaz.azcentral.com.
For more details about Natural Partners and its culture, visit http://www.naturalpartners.com.
About Natural Partners
Natural Partners provides a convenient way for health care practitioners to better serve their patients. Since 1995, they have operated as a one-stop-shop, supplying the health care community with professional-grade natural supplements and products.
About Republic Media
Republic Media is a consultative media company that provides the means to deliver a message to the right audience in the most effective way. From online to print to direct mail, Republic Media encompasses an array of products including The Arizona Republic, azcentral.com, 12 News, and La Voz. Visit http://www.RepublicMedia.com for more.
About CareerBuilder®
CareerBuilder is the global leader in human capital solutions, helping companies target and attract their most important asset - their people. Its online career site, CareerBuilder.com®, is the largest in the United States with more than 24 million unique visitors, 1 million jobs and 49 million resumes. CareerBuilder works with the world's top employers, providing resources for everything from employment branding and talent intelligence to recruitment support. For more information, visit http://www.careerbuilder.com.