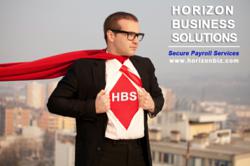 Businesses are judged by the way they handle a security crisis like this. At HBS we're ready for anything!
Columbus, Ohio (PRWEB) June 26, 2013
Payroll Service company, Horizon Business Solutions, in Central Ohio, has created a Plan of Action for customers that are seeking higher levels of payroll processing security.
On June 19, 2013 Houston Chronicle reporter Cindy George reported that a large payroll company in the United States suffered a security breach that could potentially expose information for nearly 5,000 local government workers. This was a wake-up call for the management team at Horizon Business Solutions (HBS). After checking their own security protocol, they put together a plan of action for customers that might be seeking a more secure solution. Kim Bolin of Horizon Business Solutions said that "Big companies are targeted by hackers more often than smaller companies simply because they are well known." When dealing with valuable, personal information, like payroll and human resources, it can be better to go with a lesser known company to avoid such hacks. An intrusion at this level can be very damaging to a company that is why HBS has developed a plan of recovery for customers that want to switch.
President Obama has said that cyber threats and attacks are "one of the most serious and economic and national security challenges we face as a nation." If you look at a timeline of companies that have been hacked this year, all the big companies are listed. Facebook, Microsoft, Apple, NBC, and the New York times are all on that list. And it seems the more users, the more hacks. These companies have top-notch security systems, but since they are targeted by so many hackers, eventually one gets through. Smaller companies skate under the radar of hackers.
With all that said, even small companies sometimes have a database crisis. The difference for the customer is the personal service that small local payroll companies provide. Dan Robins, President of Horizon Business Solutions, had this to say about the recent event, "Look, we hate that any business was attacked by one of these thieves but bottom-line, businesses are judged by the way they handle something like this. We just feel that smaller payroll companies like ours have better response times and better customer service when a crisis does occur. You won't get an automated voicemail message at our office."
Automated voicemail messages are not personal but they are the standard at larger organizations. Payroll, HR, taxes, and information technology can be confusing issues to deal with for the average business owner. That is why HBS, is equipped with live phone assistance for both crisis and business as usual.
Horizon Business Solutions account representatives are actively seeking out payroll customers that want to move their business to a smaller company. They want the chance to show customers that they use bank level security and encrypt files that are handled with the utmost care and integrity. They offer accounting, time and attendance administration, online payroll, HR support, and background check services at competitive rates. Kim Bolin said "Why risk using a big company for such precious information when hackers are just waiting to pounce? HBS can provide the same service with more personal interaction and no more automated voicemails. We are payroll experts as opposed to payroll processing clerks."