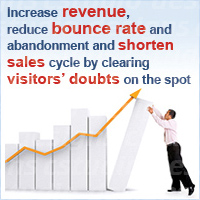 Benefit Form Dual Chat Support
(PRWEB) June 27, 2013
Nowadays, customers can easily get product information through the Internet. But even with company websites, clients still long for the person-to-person interaction they get when they visit a store. Valuechat is a live chat service that can bridge this gap. With this new chat system, businesses can deliver personalized online customer support without spending a large amount of money on employing customer service representatives.
Decreasing Website Bounce Rate
Bounce rate is a statistical term used to describe an instance when a customer visits a single page in a website and leaves without looking through related pages in the site. When a customer is not satisfied with the information found in a webpage, he loses interest. While some companies have inquiry boxes where visitors can leave questions, delayed responses can turn some clients off. A company can retain customer interest by integrating Valuechat to their website.
If a client cannot find the information they are looking for, she/he can simply click the "Questions?" banner and type his question in the chat box. Valuechat's Interactive Chat Response (ICR) automatically answers the query 24 hours a day, seven days a week. The ICR can be trained to answer commonly asked questions, decreasing a company's need for live customer service representatives. A visitor gets the experience of interacting with a live rep without the added cost to the company. Having customers receive instant replies to inquiries decreases a website's bounce rate and increases customer satisfaction.
Improve Online Customer Service
Valuechat can improve online customer service by providing immediate responses to inquiries. Interactive Chat Response begins the interaction with a greeting, making the client feel like a representative is warmly attending to them. When asked a question, the ICR sorts through a database of pre-programmed question and answers to give the most appropriate reply. If the ICR is unable to answer the query, the question is directed to a live representative to ensure customers get the answer they are looking for.
If a website visitor is impressed with the online customer service a business provides, their interest in the company's products and services increase. This will escalate the customer base and generate more business. Companies now have the opportunity to experience firsthand the benefits of using live chat software by availing Valuechat's free 15-day trial.
Valuechat provides live chat software coupled with a virtual chat that can be trained to respond to all the questions visitors might have when your live reps are not available. If there is ever a question that could not be answered, you simply train the ICR to answer the question next time. Don't worry if the question cannot be answered your ICR will alert the live rep or send an email so you can follow up later.