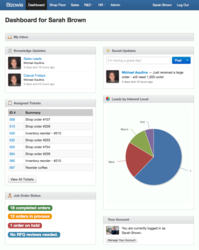 Pittsburgh, PA (PRWEB) June 26, 2013
Bizowie, the Pittsburgh-based provider of cloud-based business management software, today announced the launch of new enterprise social networking capabilities in their Bizowie ERP business management platform.
This new software allows users to quickly and easily communicate with their colleagues, share information, and network within operational groups through a simple and easy-to-use interface similar to that of popular social networking sites.
The new software is fully integrated with the rest of Bizowie's small-business cloud ERP platform, which offers a wide variety of business applications including customer relationship management, record keeping, document management, process workflow and knowledge control.
Bizowie CEO Michael Flickinger believes that enterprise social networking has the potential to effect positive change in how professionals communicate, noting that "Effective and rapid information sharing has always been important. Our tools make open communication simple, leading to faster knowledge dissemination, increased productivity and improved morale."