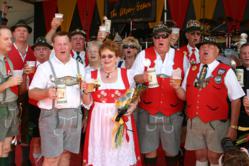 We have a huge variety of food, entertainment and events going on throughout the weekend, so there's plenty to do.
Jasper, IN (PRWEB) June 26, 2013
One doesn't need German heritage to enjoy the Jasper Strassenfest. For the 35th year, this small city with big German heritage will host one of the best street festivals in the nation, so make plans now to be in Southern Indiana the first weekend of August.
While the Strassenfest annually draws approximately 35,000 people to the streets of Jasper during the four-day event, it is the one occasion of the year that is certain to bring home former Jasperites to rekindle relationships with friends and family. According to Derrick Bair, 2013 Strassenfest Chairman, "Many people who have moved away plan on 'coming home' for the Strassenfest to see their friends and family. Other people from throughout the Midwest hear about the fest and come, too. We have a huge variety of food, entertainment and events going on throughout the weekend, so there's plenty to do. We really try to make this something for everyone!"
From competitive tournaments for runners, bicyclists, bowlers and cornhole players to polka dancers, photographers and backyard chefs, there is truly something for everyone. Three outdoor stages in Jasper's downtown provide the perfect venue for an eclectic mix of nationally known entertainment ranging from The Marlins and Alpen Echos to Endless Summer Band and 7 Bridges: The Ultimate Eagles Experience. Quartets, gospel singers, comedians and magicians round out the performance schedule.
There's a definite accent on the region's German heritage with activities such as the Stein Holding Contest, Autolauf, Wettlauf 5K Run/Walk, and Polka and Chicken Dance Contests. For those who don't feel quite ready to compete in the polka contest, there's a free Polka and German Dance Class to attend.
The list of fun activities goes on and on with auto and motorcycle shows, log-sawing contest, hot air balloon race, water ball contest, quilt show, arts festival, and train rides aboard the Spirit of Jasper. For the youngsters, there's a Diaper Derby, Kiddie Tractor Pull, and Big Wheel Race, and local talents of all types and ages are shared and enjoyed during the very popular Talentspiel. Of course, thousands of spectators line the city streets for the Sunday afternoon parade of nearly 150 floats, fire trucks, horses, and marching bands.
At the Strassenfest, there's no shortage of interesting food for palates of every persuasion – from German weiner schnitzel, smoked sausage, bratzel sandwiches, and sauerkraut to BBQ brisket, chicken hearts, elephant ears, and fried green beans. Be sure to stop by the Bier Garten for cold beer to drink with your German dinner.
So how does a city of 14,000 put on such a large event? Bair says it takes approximately 500 people who contribute their time and talent. He said, "We only have 15 core committee members, so without all the sponsors, volunteers, and nonprofit organizations sharing the responsibility and work, the Strassenfest wouldn't happen. We are very fortunate to have such a great community effort to make it so successful."
The Jasper Strassenfest begins Thursday, August 1st with the opening ceremony at 6:15 p.m. ET and concludes Sunday, August 4th with fireworks at dusk after a performance by the 100-member Celebration Singers at 7:00 p.m. ET. To learn more about the Jasper Strassenfest, please visit http://www.jasperstrassenfest.org, or contact the Jasper Chamber of Commerce at 812/482-6866 or chamber[at]jasperin[dot]org.